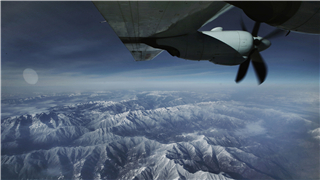 A Y-9 transport aircraft of the PLA Air Force flies over snow-capped mountains in Tibet to transfer Captain Wang Yuan, a staff officer of an air force unit under the PLA Western Theater Command, who suffered from multiple diseases threatening his life, from Lhasa to Chengdu on March 3, 2018. (Photo by Shi Jun)
CHENGDU, March 20(ChinaMil) -- An air force Y-9 transport aircraft sent by the PLA Western Theater Command successfully transferred an officer in critical conditions from Lhasa, Tibet, to Chengdu. This is the first time that the PLA has used a Y-9 transport aircraft for air medical rescue.
The 29-year-old Captain Wang Yuan is a staff officer of an air force unit under the PLA Western Theater Command. Wang's unit has been conducting field camp training since stationed in Tibet in November 2017. In late February, Wang suffered repeated fevers. On March 2, he was rushed to the PLA Tibet Military Command General Hospital. The results of medical experts consultation showed that Wang had Type I respiratory failure, pulmonary edema, loss of lung function, cerebral edema, and severely impaired heart, liver, and kidney functions caused by adenovirus infection. The hospital issued a critical condition notice on the very day.
On the next day, approved by the air force headquarters of the PLA Western Theater Command, a Y-9 transport aircraft took off at 11:32 a.m. from an airport in western Sichuan Province and arrived at Gongga Airport in Lhasa two hours later. Soon after medical workers waiting there immediately transferred Wang Yuan onto the plane, the plane took off again and flew off to Chengdu.
The Y-9 transport aircraft arrived in Chengdu at 16:54 and Wang was rushed to a military hospital for salvage.
"I can't imagine how serious his life-threatening conditions would have developed if the patient had been sent to our hospital one night later," said Chen Zhang, an expert on respiratory diseases and the doctor in charge of Wang's case at the military hospital.
Among the patients contracting adenovirus pneumonia the hospital has ever received and cured, Wang's condition was the most serious, the doctor said.
With effective treatment and 24-hour intensive care, the captain's condition is turning better and better. At present, Wang Yuan is able to get out of bed for minor activities and is recovering steadily.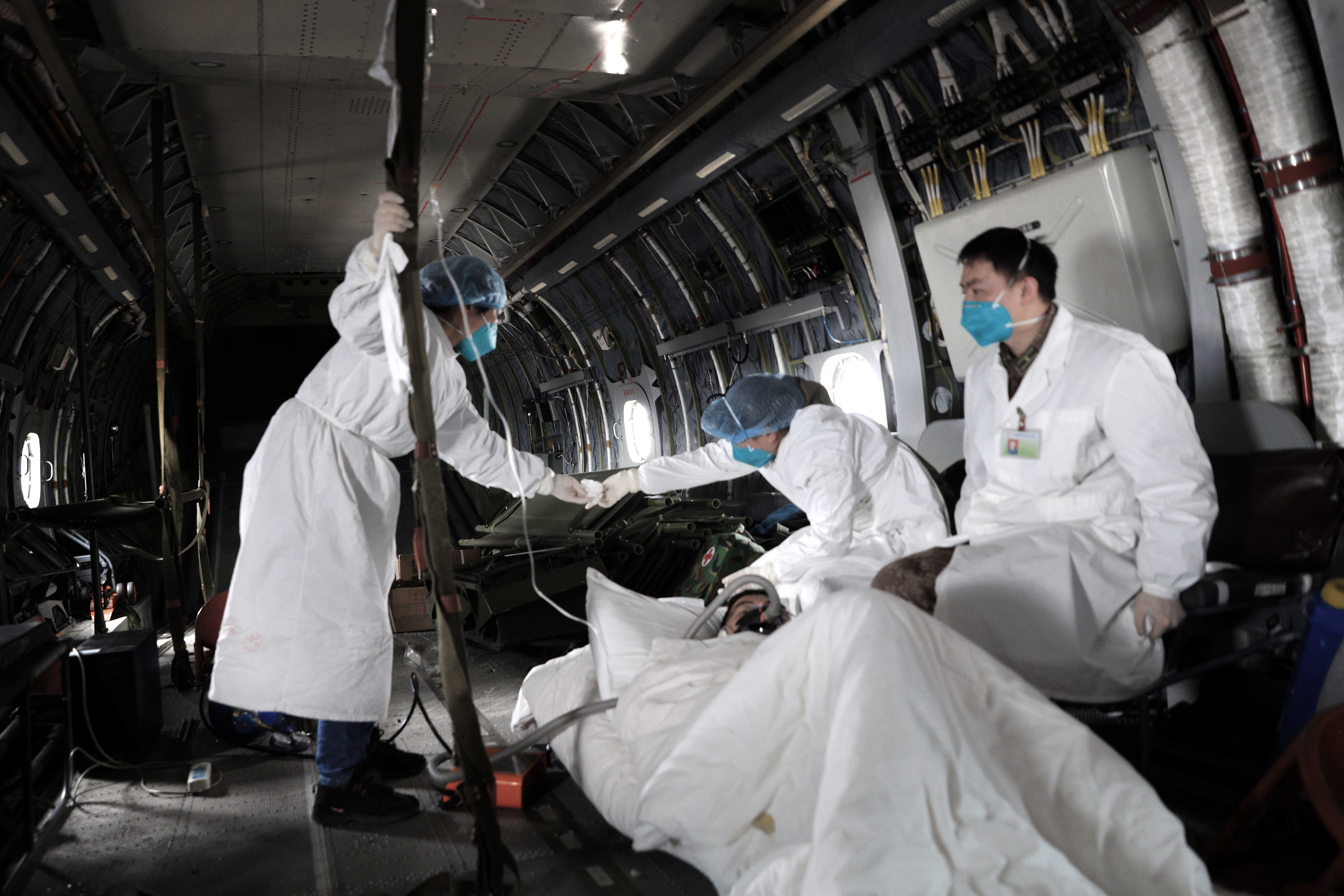 Medical personnel monitor Wang Yuan's vital signs and implement emergency treatment inside a Y-9 transport aircraft on Mar. 3, 2018. The PLA Air Force sent a Y-9 transport aircraft to transfer Captain Wang Yuan, a staff officer of an air force unit under the PLA Western Theater Command, who suffered from life- threatening diseases, from Lhasa to Chengdu for treatment on March 3, 2018. (Photo by Liu Chang)