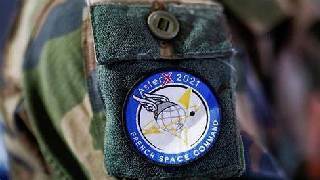 By Lan Shunzheng
France recently held its first military exercise in space codenamed AsterX, which was named in memory of its first satellite launched in November 1965. Calling it "a first for the French army and even a first in Europe," General Michel Friedling, commander of French Space Command (CDE), said the exercise indicated that Paris will play a more active role in space-based military activities.
It is learnt that the virtual exercise took place in Toulouse, France. Apart from 60 soldiers from CDE, the US Space Command and German Space agency were also invited to participate. According to Friedling, the exercise simulated a crisis between a country in military assistance agreement with France and another one with space military capabilities. It is aimed to test the endurance capability of the existing systems and assess areas for improvement in order to enhance the CDE's development.
The great value of space is being extensively recognized with the development of space technologies. As the fourth domain after the land, sea and air, it has become another highland contested fiercely by all countries.
The US, for instance, set up the Space Force during Trump's term and has been taking constant moves ever since and increasingly lowering the threshold for the Space Force to take part in real combats. In early March this year, Gen. John Raymond, chief of space operations at the U.S. Space Force, expressed the hope for the accelerated formulation of guidelines on space operations, like traffic rules and the oceanic law. Other countries have followed suit. In May last year, the Japan Air Self-Defense Force (JASDF) set up the "Space Operations Squadron"; in February this year, the Indian Defense Space Agency (DSA) officially started to explore technologies to enhance its capability of responding to space threats; also in February, media reported that the UK was planning an anti-satellite fighter jet exercise to counter satellites of other countries.
With the intensifying major-country competition, the possibility of military conflicts in space has become a topic that cannot be overlooked. France approved in 2019 to set up the Space Command in its air force, put forth the space defense strategy in the same year, and decided to invest close to EUR5 billion while its Military Program Law for 2019-2025 is in force, of which 3.6 billion will be spent on reinforcing the military satellites tasked with providing optical surveillance and communications assurance.
According to analysts, France has adopted such a high profile in space partly because it thinks future space conflicts will challenge and threaten its space interests and national security. The country's way of projecting strategic nuclear forces is quite limited at the moment, and the damage or loss of its satellites, which are the "eyes" and "ears" of its strategic nuclear forces, will weaken the effects of their first and secondary attacks. Besides, as far as conventional forces are concerned, France cannot afford to have its satellites attacked either.
On the other hand, France still holds on to its "major country complex" and dreams of reviving its past glory both internally and internationally. Over recent years, Paris has been trying hard on various occasions to promote Europe's defense independence, an important reason for highlighting its position on the continent. Space is a highly contested domain. If France takes a preemptive step in the space or secures its position as a strong space power, it will have strategic independence in the domain, and consequently secure independence in other fields, maybe even advancing EU's strategic independence with France as a "bellwether".
However, France's space-militarizing actions will undermine the international efforts to prevent a space arms race and are no good news for future space governance either.
(The author is a research fellow at Yuan Wang Think Tank, a Beijing-Based independent consulting agency focusing on military science and technology, and Charhar Institute, an independent think tank on diplomacy and international relations. He is also a member of the Chinese Institute of Command and Control)