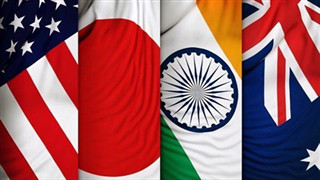 By Lin Minwang
Naval forces from the US, Japan, India and Australia will commence the second phase of the maritime exercise Malabar 2021 in the Bay of Bengalfrom October 12 to 15. The Exercise Malabar was originally an annual bilateral naval exercise initiated by India and the US after the end of the Cold War. However, with the development of the Quadrilateral Security Dialogue (Quad), this bilateral naval exercise has gradually become the military pillar of the Quad and the Indo-Pacific Strategy.
New Delhi aims to obtain greater geopolitical benefits and the policymakers believe that only by developing relations with the US and joining the "Indo-Pacific" camp can they have arm-wrestling with China. The Quad mechanism that has become more military-oriented has given India greater self-confidence, who has become increasingly arrogant.
India's arrogance is directly reflected on the China-India border issue. The official Weibo account of Chinese military media bluntly criticized the tricks of Indian media, saying that the Indian media seem to have a special preference for fabricating and hyping up China-India border issues, and like to play up the tension and stimulate populist sentiment from time to time. Maybe in their minds, only by showing how hard India is in containing China, can the US feel its strategic value.
This arrogance naturally has its inherent reasons. New Delhi was once worried that India-US relations might be cooled when the Biden administration came to power, given that New Delhi's performance in democracy and human rights had been criticized by the Democratic Party. However, the Biden administration did not criticize the Modi administration in accordance with American values, but on the contrary, invited it to participate in the Copenhagen Democracy Summit. This shows that the Indo-Pacific strategy is more important at critical moments and the United States could hold a double standard in values. This move naturally made India a little erratic, so that Modi publicly responded to Biden by saying that "India is the mother of all democracies."
After the conflict at the Galwan Valle y, China has always focused on the big picture, providing New Delhi with time to reflect, and striving to get China-India relations back on track. Unexpectedly, New Delhi gained some illusory self-confidence relying on the US and its camp.
Unfortunately, arrogance will only hurt India in the end.
(The author is a researcher at the Institute of International Studies at Fudan University, Shanghai)
Editor's Note: This article is originally published on the huanqiu.com, and is translated from Chinese into English and edited by the China Military Online. The information, ideas or opinions appearing in this article do not necessarily reflect the views of eng.chinamil.com.cn.