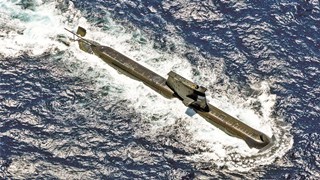 The picture shows HMAS Rankin, a Collins class submarine of Royal Australian Navy, which will be replaced by a nuclear submarine jointly developed by the US, UK and Australia.
By Fan Yanting
The US, UK and Australia recently signed an agreement to form an alliance named AUKUS, whereby the US and UK will help Australia build nuclear submarines. But other than this, which analysts described as the most eye-catching point of the alliance, tactical cooperation between the US and Australia will also exert great impacts on the military balance in the Asian-Pacific region, particularly on the change of air forces.
US aircraft take turns flying over Australia
According to Australian defense minister Peter Dutton, the formation of AUKUS will strengthen the cooperation between American and Australian militaries, and their coordination activities in the Asia Pacific, such as the rotating deployment of American military aircraft in Australia. Dutton's words were later corroborated by the head of the US Pacific Air Command. According to a report on the American website Defenseone.com, after the AUKUS partnership officially comes into effect, most warplanes of Royal Australian Air Force will be placed under America's management and command, along with their maintenance, repair and logistics support after relevant arrangements are made.
AUKUS intensifies America's military presence
According to the website, allowing American military aircraft to rotate on Australian territory will intensify America's aerial presence in the Asia Pacific in three ways. First, it will improve the deployment status of US Air Force and enhance its viability in the region as US aircraft now has access to more airports and bases. Second, the entry of American military aircraft into Australia may improve the coordinated combat capability of the two countries' air forces. Third, deployment in Australia enables American warplanes to take off or fly across the country to perform missions with greater ease and freedom.
AUKUS escalates arms race
Some analysts said the AUKUS trilateral security partnership has raised an alert in East Asia, Southeast Asia and even the world at large. "Everyone is worried that Australia may become a nuclear state, but Canberra doesn't care and it is seeking the long-term, rotating deployment of American military aircraft on its soil. That is a pointless risk," said Former Malaysian Prime Minister Mahathir, who is concerned that the aggressive move by the US and Australia may incite other regional countries to take more aggressive measures and consequently escalate an arms race in the region.
Mahathir also said even with America's warplanes and nuclear submarines, Australia doesn't have more security than before. He said to the Australian government that "you need to consider your geographical position when deciding to adopt a policy. Blindly catering to American policy doesn't work. You will only end up being played like a chess piece."