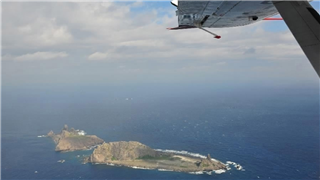 The USS Ronald Reagan aircraft carrier and its strike group have entered the South China Sea to hold military drills.
The US Navy's Pacific Fleet says the strike group is "conducting maritime security operations, which include flight operations with fixed and rotary-wing aircraft, maritime strike exercises, and coordinated tactical training between surface and air units."
For China and other countries in the region, however, it is what happening in the dark that counts, and it's not really that complicated.
Roughly $5 trillion dollars in annual trade passes through the South China Sea. This involves half of global daily merchant shipping, a third of oil trade and two-thirds of liquid natural gas.
Just as important, the naval crossroads are vital for China's global supply chain, including its Belt and Road Initiative (BRI) to improve regional cooperation and connectivity on a trans-continental scale.
The US is losing ground to China in Asia and beyond in economic and technological terms. Many Americans blame President Donald Trump and his administration for America's decline, and they are desperate to check China in the hope of changing public opinion.
There are several other reasons why there has been a significant uptick in US military activities in the South China Sea, including an attempt to insert itself into a belligerent and pugnacious maritime dispute with the world's second-largest economy.
Pentagon deficit
The US budget deficit hit an all-time high of $3.1 trillion dollars in the 2020 budget year. The primary belief is that the Trump administration and the Republicans are responsible. Trump wants to compromise on a new relief package, but Senate Republicans don't, so long as the spending levels are proposed by Democrats.
This has led to a growing debate over the Pentagon's 2021 budget. It is also blamed for the deficit and progressives are pressing for lowered defense budgets. The argument is that the greatest threat to the US national security is its debt and not China, and that military overreach is the death knell of the American empire.
This has alarmed the Pentagon and its top strategists. While the facts are not on his side, Secretary of Defense Mark Esper claims an increase in US military spending can help counter China and Russia. His ramped-up rhetoric is that a bigger budget is needed to turn the region into Washington's periphery for long-term great-power competition and "to stay ahead of the challenges we face, especially from China."
Elections
Trump continues to trail Democratic presidential nominee Joe Biden in polls, and his advisers, closest aides and campaign team are losing sleep over it. Frustrated by widespread criticism over his poor response to the coronavirus outbreak and the nationwide racial unrests, they have privately said he is behind.
Other people close to him, including some of his staunchest allies, also believe that he is on course to be a one-term president. Trump recently told his supporters at a campaign rally in Macon, Georgia, that after an election loss to Biden, "maybe I have to leave the country, I don't know."
Under the current trajectory, Trump's advisers insist he still has time to rebound and improve the political environment. Behind the scenes, they are taking steps to change tactics. And who said this may not include exploiting foreign and military policy for their own domestic political gains?
The pandemic
Compared with many other Western nations, the US failed to deal with the impact of the coronavirus pandemic. Despite having the money and the tools, the Trump administration failed to save as many lives as others. They now have to deal with a broken social safety net and a war of disinformation pertaining to poverty, economic inequality, police violence, protests for racial justice, and white supremacy.
Over 30 million work-force Americans are out of work. They blame Trump and want to change the system itself, as was true during the recent protests for racial justice. To add more to the mix, the stock market is at bubble levels as the Fed keeps printing money, and there is this worry that it could collapse at any time.
The anti-Trump mainstream media are blaming this nightmare on his handling of the virus. They say he regularly denied there's a need for masks, social distancing, and shutdowns. He didn't listen to his own medical experts and senior figures overseeing the pandemic response, either.
Instead, the media say he allowed the disease to spread throughout the country and failed to close borders in good time. To be sure, state and national polls show that Trump's administration squandered a month-long head start; it could have used to contain the virus.
What's clear is that the US is facing major crises on multiple fronts, all due to the failures and mistakes of the Trump administration. The decision to steam US warships through the Taiwan Strait or roil the Chinese territories in the South China Sea is not really what most American people and businesses favor in this uncertain new world they have been pushed into.
Facts speak for themselves. Rally effects through provocative moves overseas and other multi-domain engagements are short-term during elections, while bad economic news and forecasts are exactly the opposite.
If Trump is seeking to riven the South China Sea to the edge of instability to help him win re-election, he has picked the wrong sea. It makes rational sense. It's one thing to make a mistake; it's another thing to keep making it.
The author is a journalist, a guest contributor in print, radio and television, a documentary filmmaker and a member of the Writers Guild of Great Britain.