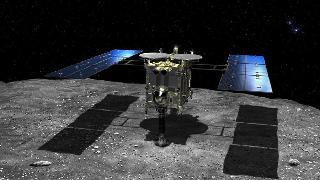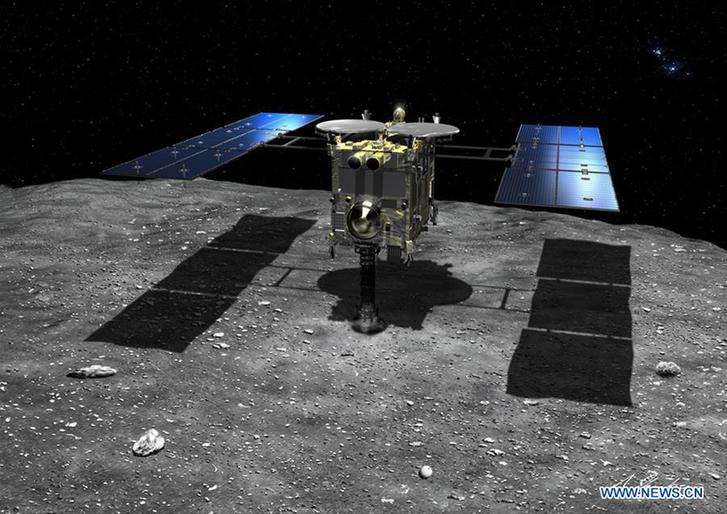 Simulated picture shows Hayabusa2 touching down on the asteroid Ryugu. (Xinhua/JAXA)
By Wen Weiru
It is reported that the Japanese Cabinet recently passed the revised Basic Plan on Space Policy, which marked the finalization of Japan's space development and utilization strategy over the next decade. The new plan places more emphasis on the military-oriented use of the space, increases contents such as joint R&D of low-orbit small satellites with the US, and aims to establish a sound space monitoring system to closely watch the space movements of its neighboring countries.
Japan aims to become "a self-sustained space faring nation".
The Basic Plan on Space Policy, a long-term strategic plan formulated by Japan based on the Basic Space Law, has been revised several times since 2009. The Japanese Strategic Headquarters for Space Development initiated an amendment bill to the Cabinet again in June this year, which was passed on June 30.  
The surrounding strategic security environment of Japan is undergoing conspicuous changes. The space has become an important domain of security defense, the combat training of the army, navy and air force is more dependent on space systems, and outer space technologies such as optical communication and quantum communication are taking big strides forward, stressed the revised Basic Plan on Space Policy adding that the immense changes prompt Japan to reevaluate and adjust its development strategy.
According to the plan, Japan endeavors to become "a self-sustained space faring nation" over the next 10 years. To achieve that goal, the document requests the country to closely follow the global trend, lucubrate into space technology, promote the export of relevant technologies and verification results, and fully leverage the favorable policies, to motivate private capital and technological forces to the largest extent. It should also intensify the cooperation with allies and friendly countries in space development to further enhance its capability of achieving "self-sustainability".
The new plan displays an obvious intent of military space utilization.
Compared with the previous edition, the new Basic Plan on Space Policy has four distinctive characteristics.
First, the plan places more emphasis on military-oriented utilization. The new plan mentions "ensuring security" dozens of times, stresses Japan's military use of the space as a trend of the time, and explicitly vows to vigorously advance such projects as the Quasi-Zenith Satellite System (QZSS) and the X-band defense satellite communication networks. It also pledges to build comprehensive and systematic satellite networks to enhance the positioning, communication and intelligence-gathering ability.
Second, small satellite R&D is stressed to intensify space reconnaissance. Through cooperation with the US, Japan will develop operationally responsive small satellites to form constellations, equipped with compound sensors to perform space reconnaissance tasks and forge reliable early warning capability against missiles from the DPRK. This kind of small satellite weighs about 100kg and works in orbit at about 200km altitude with a resolution ratio higher than 0.4m. It doesn't have to perform long-term tasks but can be quickly launched when necessary to monitor the targets at a fairly low orbit. It is reported that tracing missiles with multiple satellites can raise the precision of monitoring, even if one satellite has a failure, the others can step up and make up. It's clear that this kind of small satellite that's still in the pipeline will be an important entry point for Japan to establish its space reconnaissance capabilities.
Third, Japan will deeply engage in America's moon-landing program. The new plan emphasizes explicitly that Japan will continue to deeply engage in America's Artemis moon-landing program, with a focus on exerting its cutting-edge technologies in manned aircraft and space station replenishment.  
Fourth, the plan aims to revitalize the Japanese space industry. The new plan specifies a series of supportive measures, including fostering an export-oriented market mechanism and bolstering private space R&D to boost the development of the Japanese space industry by doubling its scale from the current JPY1.2 trillion (about USD11.2billion).
Japan's new Basic Plan on Space Policy covers a full range of aspects, including security safeguard, intelligence gathering, missile monitoring and moon landing. It fully indicates Japan's strategy and ambitions in space exploration and the military-oriented utilization of space technologies, which should keep the neighboring countries on high alert.