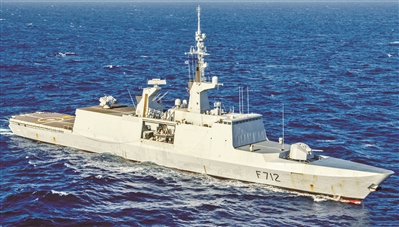 On July 1, France announced to suspend its involvement in NATO Sea Guardian maritime security operation in the eastern Mediterranean following tensions with Turkey. The picture shows French Navy (Marine Nationale) La Fayette-class Frigate Courbet.
By Yang Zhongjie
While France and Turkey are still at odds, the US and Germany recently had a falling-out too. The intense strain among several NATO member states regarding regional hotspot issues and forefront military presence have captured extensive attention. The widening internal cleft is going to pose a severe test to the bloc's alliance system.
NATO's value is questioned.
France and Turkey have had a long history of conflicts, and the two countries have traded barbs lately on the Libyan issue as Turkey teamed with countries like Italy and Qatar to support the Libyan Government of National Accord (GNA) while France is considered in support of the Libyan National Army. French President Emmanuel Macron accused Turkey, a country that "claims to be a NATO member", of "holding primary responsibility for the Libyan conflict", to which Turkish foreign minister Mevlut Cavusoglu responded that Paris is a "destructive" force in Libya and "is trying to let Moscow expand its influence there."
As to the US-German relation in which the two countries have turned from allies to partners then to strangers, foreign media generally holds Donald Trump and his "America first" strategy accountable for the constant discords and historical cold wave in the cross-Atlantic partnership. The relation between Washington and Berlin has been backpedaling in many ways, and the former's troops withdrawal from the latter has added fuel to the flame. After the Trump administration announced to reduce the American troops stationed in Germany, German media such as Der Spiegel and Berliner Zeitung all described the decision as provocative. They took it as a symbol of the bilateral relationship turning from alliance to profound divergence. The Russian newspaper Kommersant pointed out that America's withdrawal of troops from Germany epitomizes its worsening relation with Berlin, which has turned from Washington's loyal ally to its main rival in Europe, as bilateral ties have fallen to a new low since the end of WWII.
The widening divide among NATO member states is generally attributed to the fact that the value of the military bloc has been questioned after the Cold War and it is losing internal cohesion. In recent years, the relationship between NATO members and Turkey has become increasingly subtle, and their constant arguments over Middle East hotspots have taken a heavy toll on NATO's credibility. Besides, the US and Germany have entirely different stances on the Iranian nuclear agreement, the Open Skies Treaty, and other international treaties, and their conflicting statements have exerted adverse effects on NATO's solidarity and stability.
NATO's prospect is grim.
Generally speaking, NATO members' escalating conflicts and divergences in recent years are largely because of their inconsistent outlooks.
First, NATO member states have a different outlook on threats, especially on main threats from the Middle East and the strategic threat from Russia. Take the Russian threat for instance. The US has successively published the new National Security Strategy and National Military Strategy, and stressed curbing the strategic threat from Russia with forefront nations in Europe. Germany, on the other hand, pays more attention to Europe's independent defense and is much less hostile toward Russia, even eager to mend ties with it.
Second, NATO member states have different outlook on interests. The France-Turkey conflict over Libya is driven by the struggle for energy interests, while Washington and Berlin have vast divergences both in bilateral trade and in multilateral trade involving the two sides. Former US national security adviser John Bolton revealed in his new book, The Room Where It Happened: A White House Memoir, that Trump believed Germany and other European countries had done very badly in economy and trade.
Third, NATO member states have a different outlook on morality and justice. The strategic thinking of the US and Turkey has always been prone to expansionism. In contrast, European countries like France and Germany uphold the Culture of Restraint and the philosophy of a civilized state, which makes it hard for them to reach a consensus on international affairs.
Time, an American weekly, said NATO's prospects are "more uncertain than ever before".
On the one hand, as a product of the Cold War, the value of NATO's existence has been declining. Although it's too early to talk about its collapse as the foundation for the alliance is still in place, the deterioration of member states' relationship has exposed the bloc to many challenges in the future. How can it align the member states on the same page regarding their main strategic rivals and the direction of military development, while further integrating their combat systems to make sure NATO can function well in a crisis state?
On the other hand, as a US vassal, NATO has been constantly intimidated by the US in the past few years. In a recent interview with a mainstream European media, German chancellor Angela Merkel, when asked about America's reduction of troops in Germany, said Europe would reevaluate its relationship with the US if the latter is unwilling to undertake its global responsibilities as a major country. In the future, NATO members in Europe may develop an independent and combined combat system to accelerate their defense integration in order to cope with various traditional and non-traditional threats effectively.