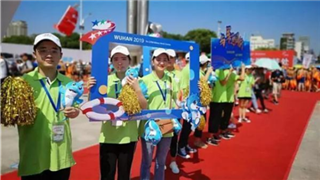 WUHAN, March 9 (Xinhua) -- The recruiting of second batch of Games-time volunteers for 7th Military World Games is under way.
There have been 50,000 volunteers applying for the role as half way into the deadline on May.
These volunteers come from various walks of life, such as military academies students, enterprises staff, overseas Chinese, international students and so on, according to the organizing committee.
The volunteers will serve the Games in 13 positions, including arrival service, protocol reception, language service, traffic guidance service, security, health care, audience service, competition organization support, venue operation support, village operation support, news operation support, cultural activities support and franchised commodity promotion support.
Zhu Jin, director of volunteer department of the organizing committee, said that training will be carried out relying on professional institutions to supervise the process and ensure the quality. Any volunteer can take up his post only after he has passed relative procedures like recruitment, auditing, training and examination.
In addition, the Games will recruit 200,000 volunteers for city services, who will work on city guidance, language service, culture interpretation, sports promotion and other activities in urban transportation hubs, business centers and tourist resorts.
The 7th Military World Games, a multi-sports event organized every four years since 1995, will be held in Wuhan, Hubei province, from Oct. 18 to 27, 2019.