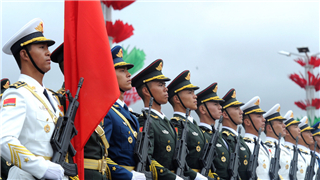 The Guard of Honor of the Chinese People's Liberation Army (PLA) take part in a military parade marking the Belarus Independence Day in Minsk, Belarus, July 3, 2018. [Photo/IC]
It is true that China's military spending has been rising in recent years, but we can see that China has been very restrained on this issue if we look at its growth rate over these years. According to the published budget draft, China's defense budget this year will be 1.19 trillion yuan ($186 billion), a growth of 7.5 percent. That is down from last year's 8.1 percent. In fact, this is the fourth consecutive year that China's military spending has had a single-digit growth since 2016.
According to Zhang Yesui, the NPC spokesman, China's military spending accounted for about 1.3 percent of its GDP in 2018, while the proportion was above 2 percent in some major developed countries. And although China is the world's second-largest military spender, it still lags far behind the United States, which has a defense budget of $716 billion this year.
Despite this, Japanese Chief Cabinet Secretary Yoshihide Suga told a news conference on Tuesday that Japan is concerned about the "high-speed growth" of China's military spending. The Voice of America also said China's neighbors and other countries often complain that China's lack of transparency about its military spending aggravates regional tensions. Why do some countries and their media still hype up the threat from China's military spending growth and speculate about the country's strategic intentions in defiance of basic facts?
Does China pose a threat to others? Its warships have not sailed far to their doors. China's warplanes have made some flights outside its territories in recent years but these have only been for training purposes.
With a defensive national strategy, China does not pose a threat to others and it will not no matter how much its military spending increases or decreases.