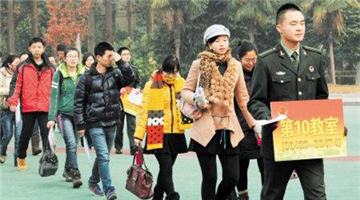 (File photo)
BEIJING, March 7 (Chinamil) -- Recently, the Chinese People's Liberation Army (PLA) has successfully concluded its first public recruitment of civilian personnel since the campaign to deepen national defense and military reform was introduced. The PLA has recruited around 5700 civilian personnel through the strict procedure including online application, unified examination, interview, health check, and political background check by the relevant authorities. Currently they are undergoing pre-job training in 16 military academies.
The main features of the first public recruitment are as follows:
——Higher levels of education. Among the newly recruited civilian personnel, 91% have a bachelor's degree, and 34% have a master's degree or above, among which 44% have a master's degree or above in teaching, scientific research, engineering and medical treatment and other major positions, and 27% are the graduates of top domestic or foreign universities.
——Diversified sources. Among all applicants, there are 600 public servants with an acceptance rate of 4% and 18,000 applicants from state-owned enterprises and institutions with an acceptance rate of 6% respectively,which proves that the first public recruitment had attracted the best talents to apply.
——More cost-effectiveness. Strict professional matching and qualification have been set for each post. 50% of the newly recruited employees are mature professionals and are ready to take on new duties. This has reduced the significant amount of time for new employees to adjust themselves in the new environment and adapt to new systems and skills.
The whole process of the first public recruitment was transparent and made public to the media and public supervision. This highly credible recruitment process demonstrates a fine image of the PLA.