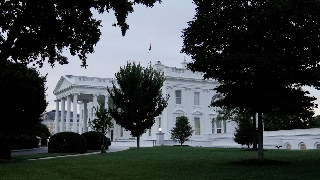 The White House is seen in Washington, DC, US on Aug 7, 2022. [Photo/Agencies]
By Liu Junfei/Li Zhe
The US' 2022 National Security Strategy, issued on Oct 12, identifies China as the United States' "most consequential geopolitical challenge" and "the only competitor with… the intent to reshape the international order", and prioritizes "out-competing China and constraining Russia" as its goal.
Increasing anxiety and a sense of crisis have driven the US to woo its allies in the Asia-Pacific region to strengthen its alliances in order to check China's rise, which has dealt a big blow to China-US military trust.
In particular, the US has raised tensions by increasing its military presence in the Asia-Pacific region, and using its Asia-Pacific strategy to target China.
The US, in fact, has been striving to establish a new alliance system in the region by strengthening and/or building multilateral military alliances and new security partnerships, such as AUKUS, a trilateral cooperation on nuclear-powered submarines among the US, the United Kingdom and Australia, and QUAD, a US-led security partnership involving Japan, Australia and India.
In addition, the US has been consolidating its military presence in the region by increasing investments in air and anti-missile defense systems, boosting its naval and air attack system, and strengthening its frontier military bases, as deterrence against China.
Washington's moves to boost its "Indo-Pacific" strategy have led to the deterioration of China-US military ties. Although the Joe Biden administration has been reiterating that its China policy includes competition, confrontation and cooperation, its moves suggest cooperation has given way to competition and confrontation.
Another risky US move is continuing US military operations near China's maritime zone. The US' military moves include intensive close-in reconnaissance in the South China Sea, the East China Sea and the Taiwan Straits, and the so-called freedom of navigation operations.
Data from an independent think tank in China, South China Sea Strategic Situation Probing Initiative, show that in 2021, "around 1,200 sorties of large reconnaissance aircraft conducted close-in reconnaissance over the South China Sea" and "came close to 20 nautical miles from China's territorial sea baselines". They also show that "US carrier strike groups and amphibious ready groups entered the South China Sea 12 times" and at least"11 nuclear-powered attack submarines …(were deployed in) the South China Sea and its surrounding waters throughout the year, among which the Seawolf-class fast-attack submarine USS Connecticut (SSN-22) even 'struck an underwater mountain' in the northern waters of the South China Sea".
The US has conducted frequent joint military drills in the Asia-Pacific to deepen military coordination with its allies, and test new weapons and equipment. But its military drills to sound out China have raised the risks of military conflicts between countries militarily active in the region.
Besides, the US' desperate efforts to stigmatize China in the international community has corroded China-US mutual trust. Using its advantages in shaping international public opinion, the US has distorted China's military development and routine military operations, claiming China is a rule-breaker that is "losing" its mind in "military development and ignoring the international order".
The decline in Sino-US mutual trust has made it difficult to implement the Military Crisis Notification Mechanism and Rules of Behavior for the Safety of Air and Maritime Encounters between the two countries. Worse, since new rules can hardly be established when Sino-US relations are so tense, the risk of conflicts owing to miscalculation and misunderstanding has been increasing.
The US unilaterally escalating competition with China is the main reason for the declining military trust between the two sides.
China has been working to help build a community with a shared future for mankind, make international relations fairer and more equitable and firmly uphold multilateralism. It has even proposed a new type of international relationship to help improve the global governance system.
And according to the report of the 20th National Congress of the Communist Party of China, Beijing has "taken a clear-cut stance against hegemonism and power politics in all their forms, and we have never wavered in our opposition to unilateralism, protectionism, and bullying of any kind".
So, it's time the US adjusted its strategy, abandoned its bias against China and held talks with China to address global problems, protect mutual interests, and restore mutual trust so as to restore global peace and stability.
The authors are Beijing-based military experts.
The views don't necessarily represent those of China Daily.