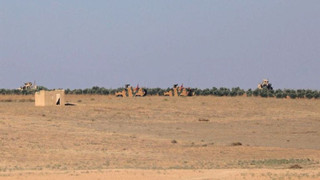 by Burak Akinci
ANKARA, June 1 (Xinhua) -- Turkey is planning a new incursion against U.S.-backed Kurdish fighters in Syria, a move which comes amid Ankara's reservations about a NATO expansion bid and projects to relocate vast numbers of Syrian refugees.
Turkish President Recep Tayyip Erdogan said on Sunday that Turkey would soon launch a military operation in northeastern Syria, in order to extend the Turkish forces' areas of control in Syria to a depth of 30 km along the two countries' border.
The zone is also where he hopes to "voluntarily" return about 1 million Syrian refugees in Turkey.
"As I always say, we'll come down on them suddenly one night. And we must," the Turkish leader said on his plane following his visit to Azerbaijan, according to Turkish media.
The threat comes as Erdogan has said Turkey will block Sweden's and Finland's applications to join the NATO military bloc, which were put forth after the Russia-Ukraine crisis.
The quid pro quo Ankara demands for lifting its objections concentrates on the end of the alleged support given by the two Nordic states to Kurdish terrorist groups.
The United States is also in talks with Turkey over its potential incursion into Syria, as experts warn that a new operation could test recently improved relations between Ankara and Washington.
Oytun Orhan, coordinator for Levant Studies at the Ankara-based Center for Middle Eastern Studies, said there is a possibility that the United States would impose sanctions on Turkey over a cross-border operation.
"If Turkey conducts such an operation, this will anger the U.S. side and again raise the discussions that Turkey should be sanctioned economically," he told Xinhua.
Such a result would be detrimental to Turkey's embattled economy amid rising inflation and declining currency.
However, a new incursion is unlikely to be launched "in a matter of days," Orhan said, adding diplomatic preparations have to be done first with key actors on the ground, namely Russia, the main support of the Syrian government, and the United States.
Turkey also wants to test its NATO allies' reactions to a possible Turkish offensive, the analyst noted.
Erdogan might think Europe and the United States are too distracted by the Ukrainian crisis to pay much attention to Syria, Orhan explained.
Ankara argues that the Kurdish forces in northeast Syria, known as the Kurdish People's Defense Units (YPG), could attack Turkey or transfer arms to Turkey's outlawed Kurdistan Workers' Party (PKK), which has been engaged in a decades-long insurgency against the government.
However, the United States has worked with the YPG in Syria to fight against the Islamic State (IS).
Hasim Turker, a foreign policy analyst at the Ankara-based think-tank Bosphorus Centre for Asian Studies, points to "an inevitable link" between the planned Syrian operation and Ankara's NATO veto threat.
"The Turkish government is seeking to offer a success story in Syria when it is under pressure regarding its objection to Sweden and Finland joining NATO, especially at a time when the country is in the grip of economic hardships," he told Xinhua.
Since 2016 Turkey has launched three military operations in northern Syria against the YPG. The last one in 2019 was dubbed Peace Spring and caused a backlash from Turkey's NATO allies.
The Turkish government has said creating a safe zone in northern Syria would prevent a new influx of Syrians and also allow refugees from the country to return home amid rising anti-immigrant sentiment in Turkey.
Turkey hosts about 3.7 million Syrian refugees, who constitutes a heavy burden on the country's finance.
"A new Turkish operation will aim to stop a potential mass migration of refugees from (Syria's) Idlib region. Turkey is seemingly trying to avert such a scenario which would make its refugee headache much worse," Turker said.