By Chen Yang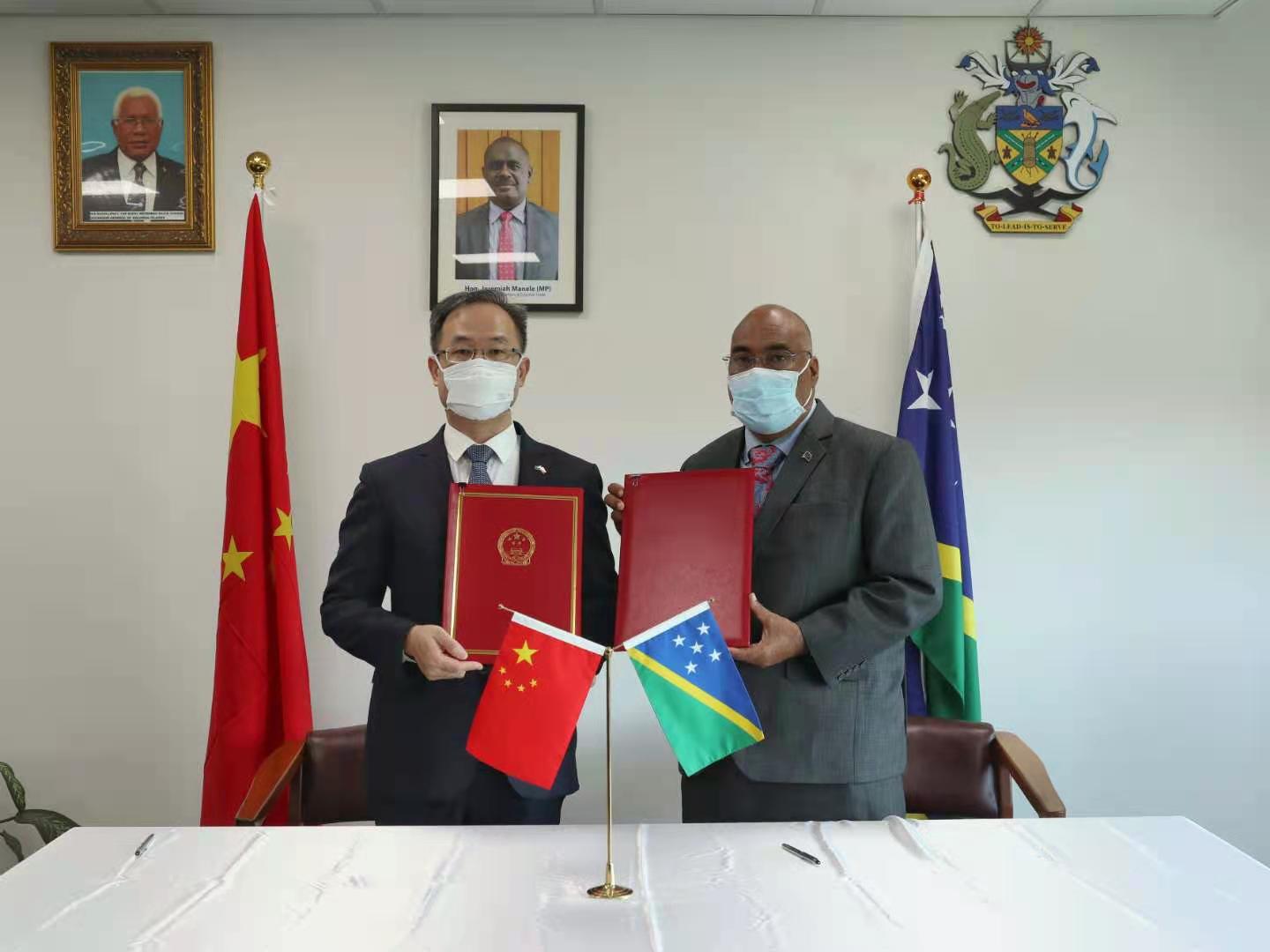 Li Ming, Chinese Ambassador to the Solomon Islands, and Colin Beck, permanent secretary of the Ministry of Foreign Affairs and External Trade of the Solomon Islands initialed the Framework Agreement Between the Government of the PRC and the Government of Solomon Islands on Security Cooperation on March 30, based on the consultation between the two countries and with the approval of their governments.
On the signing of the framework agreement on security cooperation between China and Solomon Islands, the US National Security Council issued a statement on April 19 saying that the US, Japan, New Zealand and Australia shared concerns about this security framework agreement and its serious risks to a free and open Indo-Pacific. In response, Chinese Foreign Ministry Spokesperson Wang Wenbin said at the regular press conference on April 20, "If the US line of argument is followed, does that mean the Pacific Island countries can only carry out security cooperation with the US and its few allies? Does that mean cooperation with other countries is deemed threats ?" Answers to these questions are self-evident. It is their hegemonistic complex at work behind the US and Australia's intervention in China-Solomon security cooperation.
The security cooperation between China and Solomon Islands is a normal exchange between two independent sovereign states. When a riot broke out in Honiara, capital of Solomon Islands, in November 2021, stores owned by local Chinese, such as those in China Town, were looted and attacked, leading to serious losses of properties, social panic, and leaving hundreds of Chinese homeless. After that, at the request of the Solomon government and based on equal consultation, the two countries decided to carry out enforcement and security cooperation on the basis of mutual respect, equal treatment, and win-win development.
According to Chen Hong, director of the Australian Studies Centre at East China Normal University, the security agreement between China and Solomon Islands is aimed to intensify their cooperation in preserving social order and protecting people's lives and property safety. In other words, it's focused on social security, but countries represented by the US and Australia are demonizing it as a military security cooperation agreement. America's blatant obstruction of these normal engagements is not only meddling in the internal affairs of Solomon Islands as an independent sovereign state but challenging flagrantly China's diplomacy.
Washington and Canberra have always taken the South Pacific region, including Solomon Islands, as their "backyard" in total disregard of the development demands of regional countries. Before signing the security agreement with China, Solomon Islands must have sounded a strange name for the US because its embassy on the islands was shut down 29 years ago, and the last time its Secretary of State visited Fiji was 37 years ago. Former US ambassador to Papua New Guinea Ebert-Gray, who served up to the end of 2019, said when she was ambassador to the country, Washington had no interests in the region whatsoever, but things have quickly changed as China grew in influence.
Chen added that the US has been taking South Pacific as its own test field. Between 1946 and 1958, it conducted 67 nuclear tests on the Marshall Islands, and dumped nuclear wastes into the Pacific Ocean 63 times, exposing the island dwellers to excruciating pains with the incidence rate of cancer, leukemia and birth defects in newborns rising sharply. Moreover, soil samples taken from Bikini Atoll and other islands show Pu-239 and Pu-240 in concentration over a thousand times higher than on Chornobyl and Fukushima. Australia, on the other hand, has always taken South Pacific as its own sphere of influence and has been in the habit of bossing the island countries around and pointing fingers at them.
Chen described Washington and Canberra's repeated intervention in China-Solomon cooperation as a manifestation of overbearing bullying. Australia, the self-styled South Pacific dominator and an eager assistant in America's "Indo-Pacific strategy", took the lead to put pressure on China-Solomon security cooperation, but to no avail. Now its master, the US, has come to the stage itself, but still stands little chance of shaking either China or Solomon Islands' resolve, particularly given that the security agreement was already signed before Kurt Campbell's visit to the latter. This shows clearly that the South Pacific Island country has a strong wish to pursue independent development rather than become a "chess piece" in major-country contention.
The Pacific Island countries should be a vast stage for international cooperation, not an arena for major-country wrestling; they are independent sovereign states rather than anyone's "backyard"; and Monroeism should not be given a chance to come back to life. These countries uphold a diplomatic policy of "making friends, not foes". They have the demand for diversified foreign cooperation and the right to choose partners independently. The US and Australia should respect the development demands of regional countries, adopt an open and inclusive mindset, and think more for the interests of those countries rather than the opposite.
Editor's Note: This article is originally published on haiwainet.cn, and is translated from Chinese into English and edited by the China Military Online. The information, ideas or opinions appearing in this article do not necessarily reflect the views of eng.chinamil.com.cn.