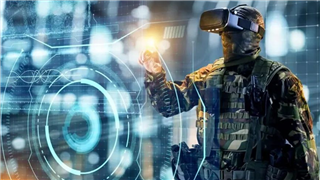 By Wu Minwen
The national defense budget for the 2023 fiscal year released by the US government on March 28 reached a new high of USD 813.3 billion, which is more than the annual GDP of most middle powers (Turkey's 2021 GDP was USD 518 billion), both astonishing and worrying the international community greatly.
For the US, pursuing absolute security for itself by passing such an obscene amount of defense budget is a bull-milking attempt; for the world, there are signs that a new round of arms race is pending.
America's defense spending has been on a constant rise ever since the Trump administration, with a particularly high growth rate for 2023. The year-on-year increase of the country's military expenditure from 2018 to 2022 was 11.8%, 3.47%, 3.1%, 0.3%and 3.7% respectively, but it jumps to 5.9% for 2023.
On January 11 this year, its Congressional Budget Office released the Long-Term Costs of the Administration's 2022 Defense Budget, which projected the Department of Defense (DOD) budget to reach USD 787 billion by 2031. Considering that this figure probably doesn't include the money allocated to the US Department of Energy to maintain and develop nuclear arsenal, Biden administration's 2023 defense budget request has already surpassed the 2031 projection, almost ten years ahead of time.
What with implementing its global strategy and pursuing worldwide hegemony, the US, in a span of fewer than 10 years, has seen its defense spending rise from the range of USD 600 billion during Obama's term to USD 700 billion in Trump's time and now to USD 800 billion in Biden's term. The continual increase in defense spending reflects some basic features of its defense policy – obtaining advantages in equipment and combat through technological superiority, and reinforcing readiness toward key regions and targets.
First, the US is stepping up technological R&D to form overwhelming superiority over its rivals. The 2023 defense budget includes a record R&D fund of USD130.1 billion, an increase of USD 18.1 billion, or 16%, nearly three times the overall budget growth, from 2022's USD 112 billion.
The DOD has put aside USD 4.7 billion to develop hypersonic weapons, and USD 3.3 billion for AI, military-purpose 5G communication technology, quantum computing, and encryption technology, which are underpinning the key combat concepts it is working on now, such as Joint all-domain command and control. Besides, nuclear weapon budget reaches a record high with USD 4.8 billion allocated to command, control and communication, USD 6.3 billion for Columbia class nuclear submarine, and USD 5 billion for B-21 bombers.
Second, the US is investing more in war-ready capacity. This includes purchasing systems and equipment that can be directly employed in real combat and battlefield infrastructure and devices, conducting readiness-related training and exercises as well as equipment repair and maintenance, and raising the pay and benefits for service members to boost their morale. The 2023 budget allocates USD 134.7 billion for Joint Force Readiness, an increase of USD 6.3 billion or 4.9% from 2022's USD 128.4 billion.
The readiness input is highly targeted. The Pacific Deterrence Initiative under the integrated deterrence of America's "Indo-Pacific Strategy" is designed to enhance the missile defense capability of American troops stationed in the Pacific region, deploy land-based long-range precision attack weapons, and reinforce forward deployments in the Indo-Pacific. The Initiative received a special USD 7 billion funds from the US Senate when passed in June 2020, followed by USD 7.1 billion in 2022 and now USD 6.1 billion for 2023, with the possibility of receiving more than proposed after the congress' review of the request given its special importance.
Third, the US is sparking a new round of arms race. America's ever-rising defense expenditure and the ongoing Russia-Ukraine conflict have already spiked the military spending of major western countries, with Germany being a prime example as its annual defense spending accounts for more than 2% of GDP now. The US has been pushing its NATO allies to increase their defense spending to over 2% of GDP, and ten countries have already hit that goal, with the UK, Romania, Poland and Latvia promising to continue raising the ratio.
Other than that, Sweden and Finland, who are not NATO members yet, not only hope to join the bloc, but also pledge to significantly increase their defense expenditure. Outside NATO and Europe, America's allies elsewhere, such as Japan and Australia in the Indo-Pacific region, also expressed their willingness to reinforce the military capacity and gears. This general sentiment is dangerous for regional security and will worry other regional countries into following suit in order to hedge against regional tension and ensure their own security.
The US has the world's strongest military, and its military spending steadily accounts for about 40% of the world's total. The world won't be a safer place for more weapons, just like a furnace won't cool down for more coal. History and reality both prove that America's pursuit of hegemony and absolute security by increasing military spending without limit will only lead to the opposite results than what it expects.
 (The author is from College of Information and Communication, National University of Defense Technology)
Editor's note : This article is originally published on the zqb.cyol.com, and is translated from Chinese into English and edited by the China Military Online. The information, ideas or opinions appearing in this article do not necessarily reflect the views of eng.chinamil.com.cn.