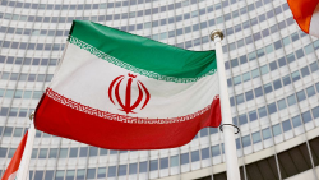 The US National Security Advisor Jake Sullivan held talks with Israeli Prime Minister Naftali Bennett on Wednesday, at a time when the ongoing international efforts to revive the 2015 Iran nuclear deal have reached what he said was at a "critical juncture".
"It's important that we sit together and develop a common strategy, a common outlook, and find a way forward" that fundamentally secures US and Israeli interests, Sullivan said, according to an Israeli government statement.
The latest talks in Vienna, Austria, which began on Nov 29, concluded on Friday with positive comments from the European Union, Iran, China and Russia while the United States, the United Kingdom, France and Germany, the other parties to the talks, expressed pessimism.
Wang Qun, Chinese envoy to the United Nations and other international organizations in Vienna, said three weeks of intense negotiations have produced important consensus and new documents, laying a solid foundation for advancing the follow-up negotiations as well as for bringing the Joint Comprehensive Plan of Action, the formal name of the Iran deal, back on track.
While the UK, France and Germany admitted there has been some technical progress in the talks, the US insisted that it sees no "pathway back" to the nuclear deal with Iran with Sullivan saying that restoring mutual compliance with the deal "has proven more difficult over the course of this year than we would have liked to see".
During his visit to Israel this week, Sullivan even said there may be only "weeks'' left before nuclear talks with Iran may no longer be "viable".
Some recent developments on the geopolitical front in the Middle East have also indicated that tension and acrimony between the contestant parties to the Iran deal, instead of showing signs of abating, remain acute.
Since the Israeli government is firmly opposed to the talks, it is to be hoped that the common strategy and outlook of the US and Israel does not become another obstacle to reviving the deal.
In response to an anti-Iran joint statement issued by foreign ministers of the Gulf Cooperation Council members and the UK on Monday, Iran's foreign ministry accused Western countries of constantly stoking tensions in the region.
There is a pressing need to resume the talks at an early date so that the latest round of diplomatic efforts can bear fruit.
Both Iran and Russia have said the nuclear talks will resume soon. At this critical moment, all the parties involved need to exercise the utmost restraint and strive to make sure the right atmosphere prevails for the talks to achieve a breakthrough.
Given its importance to international nuclear nonproliferation and regional peace and stability, an early revival of the 2015 Iran deal, no matter how difficult, needs to be realized.