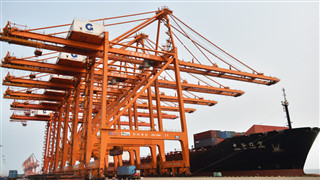 A cargo ship docks at Qinzhou Port in China-ASEAN Free Trade Area in Qinzhou, Guangxi Zhuang Autonomous Region, China, July 11, 2020. /Xinhua
The Association of Southeast Asian Nations (ASEAN) sent a strong signal to the world on November 22 that it desires peace and regional stability by establishing a comprehensive strategic partnership with China. This is the strongest level of diplomatic ties short of a treaty alliance.
U.S. power game tacticians will be disappointed at this latest development. Washington for years has attempted to leverage maritime border disputes among ASEAN nations and China to create strife and instability in the region. It had hoped that by escalating those disputes and offering to deploy its military, it could keep the region divided and contain China.
However, the upgraded ties between China and ASEAN prove how myopic Washington has been. Countries like the Philippines have chosen to take a wider view and consider maritime disputes as a patch of bad weather in a sunny big picture. In the past 30 years since China and ASEAN first established dialogue relations, trade between the two sides has exploded. China and ASEAN are each other's largest trading partner.
Goods freely cross borders, with shoppers in ASEAN countries like Malaysia seamlessly ordering consumer goods from Chinese online giants. About 90 percent of goods between the two sides can be traded with no tariffs. Chinese tourists boost the economies of ASEAN members, and Chinese manufacturers are shifting operations to Southeast Asia. At the start of 2022, the world's largest trading bloc, the Regional Comprehensive Economic Partnership (RCEP), will come into force.
During the COVID-19 pandemic, China has provided ASEAN members with over 300 million COVID-19 vaccines. Many arrived during a crucial period when Western countries were not sharing their own vaccines with the rest of the world. And Chinese President Xi Jinping said in his remarks on November 22 that China is donating another 150 million doses of COVID-19 vaccines to the ASEAN countries.
China and ASEAN will enjoy this close relationship, which is beneficial to regional development.
"China was, is, and will always be ASEAN's good neighbor, good friend, and good partner," President Xi told ASEAN leaders during a virtual summit marking the upgraded diplomatic relations, adding that China will "never seek hegemony, still less bully smaller countries."
The U.S., partly because of the former administration's "America First" policy, has left the region. China has formally asked to join the Comprehensive and Progressive Agreement for Trans-Pacific Partnership – a free trade agreement originally proposed and then jettisoned by the U.S. And the United States has caused consternation in the region by stepping up its military presence and dragging other countries into its orbit.
Southeast Asian nations want to trade, develop and become prosperous. They want regional stability. Alliances such as the Quad and AUKUS are the opposite of what they truly desire. They do not want a superpower from halfway across the planet injecting its military into regional problems and destabilizing the region.
As the U.S. attempts to stoke tensions, it is China and ASEAN nations that have successfully managed their disputes, focused on areas of common interest, and protected stability in the region by working together on a code of conduct for the South China Sea. The bottom line is that the U.S. has turned away from economic development in the region and instead focused on projecting its military power to protect Washington's own interests. The U.S. is happy to destabilize the region and stoke tensions as part of its hapless efforts to maintain the world's trade rules for its own benefit.
With the decision to upgrade ties between ASEAN and China, ASEAN members have chosen prosperity and regional stability over Cold War power games and military adventures. China has supported the ASEAN countries as the center of regional stability. The ASEAN Outlook on Indo-Pacific is aligned with China's interest in the region. China and ASEAN countries could work from the basis of the Outlook to construct even closer ties to foster greater development.
Countries in the region have learned there is more to be gained by searching for common ground rather than fixating on conflict. After all, differences exist between all nations. The important thing is how they are managed.