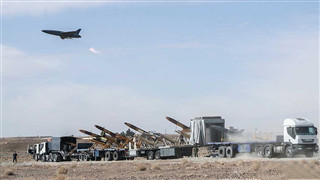 TEHRAN, Oct. 1 (Xinhua) -- Iran's Army Ground Forces (AGF) launched military maneuvers on Friday morning in northwestern areas bordering Azerbaijan and Armenia, state TV reported.
"The exercise, codenamed Conquerors of Khaybar, began with the participation of a number of armored units, artillery, unmanned aerial vehicles, electronic warfare units and combat engineering vehicles, with the support of airborne helicopters," the official website of Iran's army wrote.
Speaking at the site of the drill, Brigadier General Kioumars Heydari, the chief commander of Iran's AGF, said that during the conflict between Azerbaijan and Armenia over the Nagorno-Karabakh region, "a significant number" of Islamic State (IS) terrorists "were called" to the area.
Heydari stressed that the Islamic Republic of Iran has never initiated any aggression, while noting that the country has never obtained assurance that the IS terrorists have abandoned the area.
"They have to leave this area, and it was necessary that we make a show of strength," the Iranian commander added.
TENSIONS OVER TRANSPORTATION
In recent days, Iranian officials have warned against tensions between Iran and Azarbaijan over road transportation of goods between Iran and Armenia, after Azerbaijan authorities arrested two Iranian truck drivers in mid-September in the Nagorno-Karabakh region on charges of illegal border crossing.
"The arrest of Iranian drivers should not cause tensions between Iran and Azerbaijan, but it should be said that some countries are seeking to disrupt Iran's relations with other countries," Mahmoud Abbaszadeh, the spokesman for the Iranian parliament's National Security and Foreign Policy Commission, said on Thursday in an interview with Etemad daily.
Abbaszadeh specifically said that "there will not be the slightest threat to Azerbaijan's borders from the part of Iran."
Azerbaijani President Ilham Aliyev said on Monday that Azerbaijan has repeatedly told Iran its dissatisfaction with the illegal passage of Iranian trucks, but this trend has continued.
In an interview with Turkish official news agency Anadolu, Aliyev described Iran's plans to conduct military exercises near the border at this moment as "very surprising."
The Nagorno-Karabakh conflict "is over," Azerbaijan's president said at another point in the interview.
GEOPOLITICAL CONCERNS
On Wednesday, a high-ranking commander of Iran's Islamic Revolution Guards Corps (IRGC) said "the governments of neighboring countries know better than anyone" the reason for Iran's maneuvers.
Iranian Brigadier General Mohammad Pakpour, commander of the IRGC ground forces, added that "preventing changes in the borders of neighboring countries" is part of Iran's major strategies.
"We consider any geopolitical change in the region to be detrimental to our internal security and have always declared it a red line," Pakpour said on the sidelines of an event in Iran's Kurdistan province, as quoted by Sepah News, the IRGC's official news outlet.
The IRGC general further noted that different countries have held about 37 drills in the region in the last few months, seven within the last month, and Iran has reacted to none of them.
In a meeting on Thursday with Azerbaijan's newly appointed ambassador in Tehran, Iranian Foreign Minister Hossein Amir Abdollahian said Iran "will not tolerate" Israeli presence and activities against Iran's national security near its borders, and "will take any necessary action in this regard," official news agency IRNA reported.