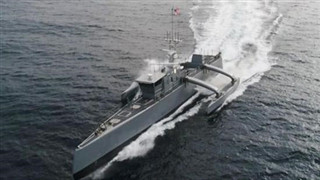 By Shi Hong
The US Department of the Navy recently released the Unmanned Campaign Framework, putting forward an ambitious plan. The documentpoints out that the Navy and Marine Corps will seek to achievea seamlesslyintegrated manned-unmanned force across alldomains to cope with the "central challenge"posed by the so-called major-power competition.
Last year the US military proposed to invest USD 2.7 billion in the next five years to build an unmanned fleet of 10 large surface vessels that would either operate independently or in conjunction with surface forces. The CNO NAVPLAN released on January 11 also called for building an integrated fleet comprising large warships, unmanned vessels of various types, underwater vehicles, and airstrike devices to get ready for all-domain combat in a so-called environment of new threats over the coming decades.
Unmanned systems have notable advantages in combat, such as adapting to complicated and dangerous combat environments, lessening the burden on key combat personnel, increasing troop agility, and reducing casualties. That's precisely why the US Navy and Marine Corps have purchased and deployed such a staggering amount of unmanned systems over the years.
Regarding unmanned aerial vehicles (UAV), the US Navy has the MQ-8C Fire Scout unmanned helicopter and MQ-4C Triton fixed-wing unmanned aircraft system (UAS) of intelligence, surveillance and reconnaissance (ISR), and is developing the new MQ-25A Stingraycarrier-based, unmanned refueling aircraft; while the US Marine Corps has the MQ-9A Reaper for Intelligence, Surveillance, Target Acquisition and Reconnaissance (ISTAR), and attack missions.
Above water, the US Navy has already deployed the first Sea HunterAnti-Submarine Warfare Continuous Trail Unmanned Vesseland is developing large unmanned ships capable of carrying weapons. Underwater, it is equipped with a raft of unmanned vehicles and gliders that can be launched and recovered by surface vessels and submarines.
Over the ground, the US Marine Corps is validating the "Remotely Operated Ground Unit for Expeditionary Fires (ROGUE-Fires)" that is mainly used to launch Naval Strike Missile (NSM) for remote assaults with UAVs positioning the targets for it.
Still, these are not enough for the Department of the Navy. In addition to the new unmanned fleet and UAV development plan, commandant of the Marine CorpsGen. David H. Berger also said most logistics missions for future expeditions would be carried out by unmanned systems.
But whether these ambitious plans will come through is to be seen. Rob Wittman, a Ranking Member of the Subcommittee on Seapower and Projection Forces at US House of Representatives, said recently that he recognized the growing importance of unmanned systems, but the goals for their development must be substantial rather than swift. He said America has eaten enough bitter fruits hurrying into the R&D and manufacturing of new weapons and equipment without solid and substantiated demonstration.
Rob asked the US Department of the Navy to validate the maturity of relevant technologies before making any input to unmanned systems and to fully understand what future warfare will be like. Obviously, there are many barriers to putting the Unmanned Campaign Framework into practice, especially to persuade Congress to appropriate funds for the Navy and Marine Corps' unmanned system development.
Rob Wittman's doubts make sense, and the report admits that the biggest challenge to unmanned system development now is how to quickly and synchronously develop a complete unmanned combat system with limited resources. Unmanned systems cannot fully exert themselves unless they are matched with corresponding manned systems, autonomous operation technologies, communication systems, loads, and general interfaces.
Besides, despite the eloquence of the Department of the Navy eager to secure the funding, there is no feasible solution yet to the moral and ethical controversy over granting unmanned systems the "right to kill". After all, airstrikes executed by American UAVs in Afghanistan and Iraq that caused immense civilian casualties are still being condemned. The Unmanned Campaign Framework, which proposes such an ambitious plan for unmanned systems, will definitely aggravate the worries of both the American public and the international community.