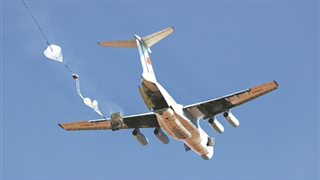 Equipment is airdropped from the transport aircraft during a parachute training exercise. Photo by Jiang Long
By Li Jianwen and Jiang Long
This year marks the 70th anniversary of the formation of airborne troops in the PLA Air Force. Huge changes have taken place in terms of weapons and equipment of these troops in the past 70 years.
For a very long time after its formation in 1950, airborne troops had acted just like infantry in the air because of the poor equipment. In the 1990s, large transport planes were commissioned and breakthroughs were achieved in such core capabilities and technologies as simultaneous air-dropping of troops and equipment, continuous air-dropping of heavy-duty equipment and loaded weapons.
As a result, a batch of heavy-duty weapons and equipment have been commissioned after generations of improvements and testing, and the personnel composition of airborne troops have evolved in a compound and multiple way, which is comprised of infantry, artillerymen, armored troops, missile squad, and airmen, etc.
In the new century, the airborne troops moved faster in the transformation towards the combined arms air force and began to explore a new information-based modular airborne operation mode, which is, deploying the fire attack contingent, special operations contingent, and helicopter contingent in an integrated way.
After rounds of military reforms, the airborne troops were incorporated into the joint combat commanding and force system, tasked with performing "integrated air-land" missions in multiple strategic directions, in various battlefield environments, and with diverse services and arms. Thus the airborne troops have focused on developing new weapons and equipment for air projection, air-to-ground assault, command and control, and guided assault, which are more information-based and synthetic.
The upgrade of equipment has given a strong impetus to enhancing the new-style combat force of airborne troops. During a training aimed to test their combat capability, an entire airborne brigade was quickly projected to grassland thousands of miles away, where they, with the help of information system, gathered soon after landing and successfully seized and controlled important targets. In another airborne surprise attack exercise, the Leishen Commando dropped directly on the combat area across the sea and set up positions with the new command and reconnaissance equipment, while the commander was having a clear picture of the overall situation at the command center.
The new type of airborne troops has emerged with the commissioning of new equipment. At present, 90 percent of the officers at battalion and company level in the airborne operational force have had experience in joint exercises and training, and over 60 percent of the troops are able to use multiple weapons while being particularly expert on one. The intensified cultivation and training of talents is pushing the combat force building to a new high.