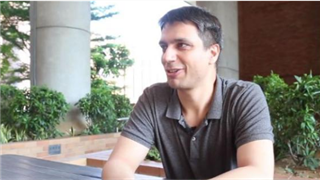 HONG KONG, May 28 (Xinhua) -- China is set to make Hong Kong national security laws as a related decision was adopted at the national legislature on Thursday. Three foreign people familiar with Hong Kong told Xinhua their views on the legislation.
The interviewees recognized the necessity of the legislation to safeguard national security and stop prolonged violence in Hong Kong and said they believe the rights and freedoms of people living here will remain unchanged.
PEOPLE UNEASY AMID VIOLENCE
"People were uneasy," Robinson, a Hong Kong resident of British origin, said when describing life under the shadow of violence last year in Hong Kong.
Having lived in Hong Kong for over 10 years, he witnessed how the prosperous and safe financial hub was plunged into chaos during social unrest. "The disruption from June (2019) last year did affect life and work. Schools were closed, events canceled and transport disrupted."
Hong Kong's stability is essential to international trade, Robinson said.
During months of disturbances following the now-withdrawn ordinance amendments concerning fugitive transfers, processions, hijacked by rioters who claimed to be "freedom fighters," repeatedly descended into violent incidents, which threatened the safety and freedoms of residents and eroded Hong Kong's economic foundation and rule of law.
Dan Albertson, a freelancer from the United States, was deeply concerned.
"The level of violence in Hong Kong makes me and many other people concerned," Albertson said. "Hong Kong is a very lively city and has a great amount of openness but this openness is in peril."
In 2019, Albertson, 35, left Chicago where he had lived for 10 years to start a new life in Hong Kong. He looked forward to a fresh experience but was shocked by violent protests and destructive activities erupting all of a sudden and keeping intensifying in Hong Kong.
"They are the people who talk about laws and freedom while simultaneously eroding the freedoms of other people who don't agree with them," he said. "You cannot beat up people for disagreeing with you."
Ever since last June, fanatics have used violence of all types to wage war on the society and there has been a surge in home-grown terrorist activities, which is designed to destabilize the country as a whole, Grenville Cross, former director of public prosecutions of Hong Kong, said.
LEGISLATION LONG "OVERDUE"
Grenville Cross believes the violence in Hong Kong has been condoned and encouraged by foreign powers. "They see Hong Kong as a useful means of destabilizing China at a time of geopolitical rivalry, and Hong Kong is just a pawn on their chessboard for them."
Cross said foreign powers have encouraged their local proxies in the protest movement to stoke up trouble.
"The independence fanatics are clearly pandering to their American backers, who have never really accepted Hong Kong's return to China and see Hong Kong as part of their sphere of influence," Cross said.
Cross stressed that no country would tolerate subversive, secessionist, terrorist activities on its soil, and the legislation is absolutely necessary.
"The national security legislation is overdue in Hong Kong," Robinson said, echoing Cross's words.
"The legislation is the right thing to do because Hong Kong is part of the Chinese territory," Albertson said. "The Chinese authorities have all their legal responsibility to protect their territory. That's the same of any country."
Hong Kong returned to the motherland in 1997 but local legislation in Hong Kong to protect national security, a responsibility written into the Basic Law, has not been completed, leaving a loophole in China's national security.
Albertson said he believes other countries will fill such kind of gap very quickly, including the United States.
The National Security Act of the United States was signed into law by then U.S. President Harry Truman on July 26, 1947. The United States also enacted the USA PATRIOT Act after the September 11 attacks and the CLOUD Act.
"Hong Kong is vulnerable," Albertson said. "I can't think of a country on earth that would allow that kind of vulnerability."
NOTHING TO FEAR
"The broad mass of people ... have nothing to fear," Grenville Cross said, stressing that only a small group of people will be targeted and law-abiding residents are outside the ambit. Cross, a British barrister, had worked as the director of public prosecutions in Hong Kong for 12 years since 1997.
The National People's Congress has made it clear that the legislation only targets those engaged in acts and activities to split the country, subvert state power, organize and carry out terrorist activities and other behaviors that seriously endanger national security, as well as activities of foreign and external forces to interfere in the affairs of the HKSAR.
The basic rights and freedoms of Hong Kong people will continue to be protected under the Basic Law and the judicial independence will also be guaranteed, Cross said.
Dan Albertson, who has traveled multiple times to the Chinese mainland, said Hong Kong is a bridge between the mainland and the West and he believes the unique advantage, along with the rights and freedoms of Hong Kong people, will continue to be cherished.
There is no logic to be afraid of the legislation, Albertson said. "I suppose a lot of the people who are concerned have never been to the mainland or they only hear about mainland news filtered by biased and unreliable media outlets."
Cross pointed out that the business environment will also improve after the legislation.
"The last thing the business community wants is a continuation of the violent protests of last year, which has resulted in so many businesses closing down or moving elsewhere, and tourists staying away," Cross said.
"If the national security legislation helps to control the illegal and violent activities bringing death and destruction to Hong Kong, I imagine that all foreign businesses will feel very relieved."