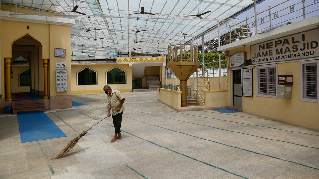 COLOMBO, April 28 (Xinhua) -- Sri Lankan President Gotabaya Rajapaksa has appointed a special task force to ensure the health security at military camps and the safety of military personnel involved in the front lines of the COVID-19 pandemic, a statement from the President's Office said here Tuesday.
The Task Force was established after over 150 navy personnel were infected with the COVID-19 after they took part in a recent search operation for suspected patients and drug traffickers in Suduwella, in the outskirts of Sri Lanka's capital Colombo.
The President's Office said the newly established Presidential Task Force is responsible for preparing, implementing and monitoring an effective mechanism under the guidance of Secretary Defence and Commanders of Tri-Forces to ensure health security of all military personnel who are in the front lines of preventing the spread of the virus in the country.
"It is equally important to protect the people as well as security forces personnel. Special attention should be paid to groups who act closely with the infected. Those who are infected should be directed to hospitals while people they had an association with should be sent for quarantine. The prime objective is to prevent community transmission of the virus," the statement said.
Sri Lanka has so far detected over 590 cases of COVID-19 out of which over 150 are naval personnel while three army soldiers have also been infected, the Health Ministry said.
Seven deaths have been reported from the virus in the island country so far.