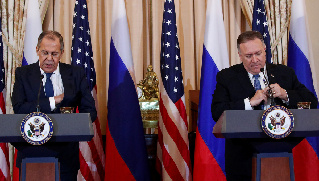 US Secretary of State Mike Pompeo and Russia's Foreign Minister Sergey Lavrov hold a joint news conference at the State Department in Washington, in this Dec 10, 2019 file photo. [Photo/Agencies]
Since it unilaterally withdrew from the Intermediate-Range Nuclear Forces Treaty with Russia a year ago, the United States has repeatedly proposed its nuclear arms talks with Russia also involve China, and in a telephone conversation with Russian Foreign Minister Sergey Lavrov on Friday, US Secretary of State Mike Pompeo once again pushed for trilateral discussions.
That, as he knows, is totally unacceptable to China, which has made clear that it will not take part in any trilateral negotiations on nuclear disarmament with the US and Russia, as the size of its nuclear arsenal is extremely limited compared to theirs — together the US and Russia account for more than 90 percent of the world's nuclear weapons.
China has always advocated the complete prohibition and thorough destruction of nuclear weapons, and believes that, as the countries with the largest nuclear arsenals, the US and Russia have a special responsibility to lead the way on nuclear disarmament and should reduce their nuclear arsenals in a verifiable and irreversible manner, creating the right conditions for other countries to participate.
Being aware of China's opposition to trilateral talks, the US is deliberately hyping up the idea of trilateral nuclear talks knowing they will not happen. It is trying to hoodwink the world into believing that it is genuinely seeking to reduce the risk from nuclear weapons while acting to strengthen its nuclear advantage and deploy previously banned intermediate-range missiles in Asia.
As part of its smoke-and-mirror tricks, last week the US State Department released a report in which it suggested that China may have secretly conducted low-level nuclear tests throughout 2019, a claim that was unsubstantiated and which was immediately refuted by China as being an accusation made of thin air.
Rather than China, it is the US that is seriously raising the risks of nuclear war by sabotaging the global strategic balance and stability and setting back international arms control and nuclear disarmament efforts.
The US should stop its dangerous maneuverings and face up to its obligations for world peace and stability. It should work with Russia on an agreement to reduce the size of their nuclear arsenals and so make its due contribution to international nuclear disarmament.
It should start by responding positively to Russia's proposal to extend the 2011 New Strategic Arms Reduction Treaty, the last remaining agreement binding the two powers' nuclear arsenals, before it expires in February next year.
The US administration should realize that its zero-sum approach to world affairs has become increasingly destabilizing and risk creating. It should accept its Cold War mentality is outdated and do more to contribute to the common good and stability in the world instead of doing the opposite.