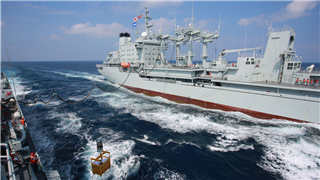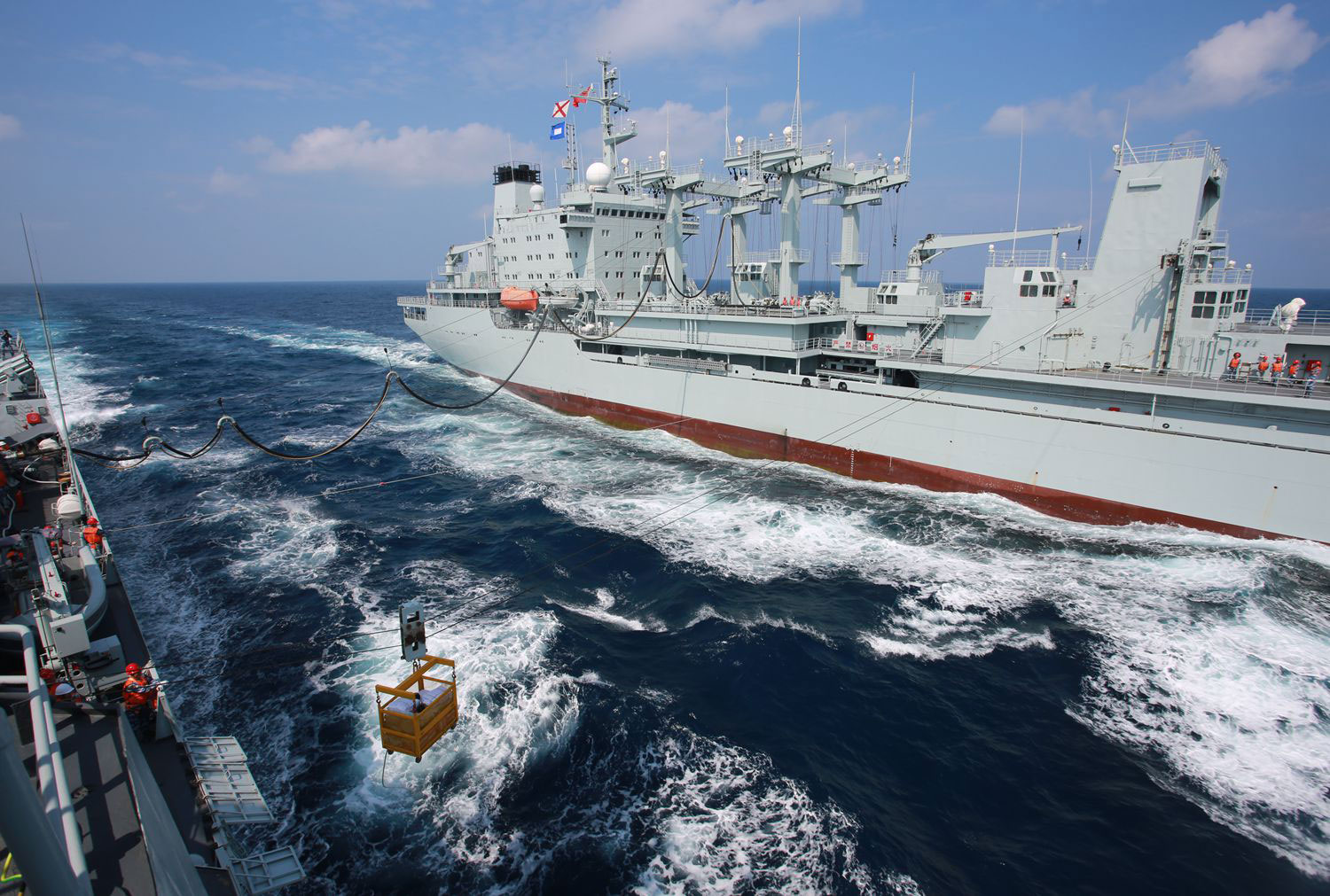 The comprehensive supply ship Qinghaihu (R) provides replenishment-at-sea for the guided-missile destroyer Haikou (L) while the two ships attached to the 27th Chinese naval escort taskforce are sailing in east waters of the Gulf of Aden on October 30, 2017, local time. The taskforce consists of the guided-missile destroyer Haikou, the guided-missile frigate Yueyang and the comprehensive supply ship Qinghaihu. (eng.chinamil.com.cn/Photo by Li Changhuan and Liu Xin)
By Huang Ming, Ju Zhenhua and Yu Xiaoquan
BEIJING, Mar. 13 (ChinaMil) – "We will resolutely safeguard national sovereignty, security, and development interests, and never seek maritime hegemony," said the deputies and members from the Chinese Navy participating in the "Two Sessions". They believe that China's Navy goes to the high seas, not only to protect its motherland, but also to maintain world peace.
Chinese PLA Navy's hospital ship Peace Ark (Hull 866) carried out free medical service tasks in the Oceania, Central and South America in 2018. They sailed 31,800 nautical miles in 205 days, treating 50,884 people and performing 288 operations. All these numbers vividly reflected the Chinese Navy's love and passion for peace, impressing the local people with warmest memories.
Major General Chen Xianguo, former deputy director of the Political Department under the PLA Southern Theater Command, who has led the hospital ship abroad several times to carry out free medical services, said that whether it is escort mission in the Gulf of Aden, evacuation of overseas Chinese in Yemen, or the disaster relief and medical services, the Chinese Navy is always there for maintaining peace.
"I have been in the Gulf of Aden twice and have gained all kinds of experiences," said Capt. Zhao Yanquan, captain of the guided-missile frigate Yueyang (Hull 575). Referring to the missions in the Gulf of Aden, Zhao said that they have implemented the escort missions both for Chinese and the UN ships. "In the Gulf of Aden, we did these not only for China, but also for the world," added Zhao.
"China's development benefits the world," said Major General Liu Gengqun, former deputy Chief of Staff of the PLA Southern Theater Command. Liu believes that with 5,000-Year of civilization, peace loving is anchored in Chinese genes. The PLA Navy is about to celebrate its 70th birthday, and the progress of its development has further demonstrated its love for peace. Dispatching naval vessels to the Gulf of Aden and the waters off Somalia for normal escort operations are good examples.
Since December 2008, the PLA has sent 31 batches of more than 100 vessels and over 26,000 troops to provide security for over 6,600 Chinese and foreign ships. "We must be more active in the international activities such as escort missions abroad, disaster relief and humanitarian medical services. We will continue promoting peace, sowing seeds of friendship, and demonstrating the Chinese Navy's guard of peace through concrete and practical actions," said Liu.
"China did not, is not and will not seek hegemony as always!" said Lieutenant general Cen Xu, assistant to the director of the former PLA General Political Department. Cen said that the Chinese Navy is a force that loves and defends peace and will forever hold that as its ultimate purpose.