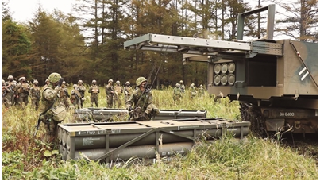 Japan Ground Self Defense Force (JGSDF) and US Marines hold Resolute Dragon 22 joint exercise in early October.
Japan has recently joined with the US and its allies in multiple exercises and training in the Asia Pacific, and advanced the defense cooperation with Australia, India, and several NATO members. Foreign media reported that the Fumio Kishida administration seems more than willing to be the cat's paw to help America maintain its global hegemony, and its military expansion will affect regional security.
Closely following in America's steps
Fumio Kishida has been busy aligning with America's strategy after he came into office. When he met with US President Biden in May this year, he said Japan would hear America's suggestions on its new National Security Strategy. Japanese defense minister Yasukazu Hamada also said the suggestions from the US military would be reflected in Japan's defense policy.
The JSDF and US military have been quite interactive with each other as their top officials are in constant exchanges. During the recent Resolute Dragon 22 exercise and the earlier Orient Shield 22 exercise, troops from both countries shared target position information and carried out successive assaults.
The JMSDF and JASDF have had frequent joint training with US troops. Japan has sent its Aegis combat ship to join the US aircraft carrier strike group, participated in US Navy's maritime operations, and dispatched F-15 and F-35A fighter jets to escort America's strategic bombers.
Tokyo also decided to commission more F-35As and invited the US to temporarily deploy its High Mobility Artillery Rocket System (HIMARS) in Kyushu to reinforce forward coordinated defense.
Strengthened foreign cooperation
As America's important ally in the Asia Pacific, Japan, catering to NATO, India, and Australia's plot for greater regional influence, has kept joining one after another small circle to tighten their relations.
In a recent meeting, Japanese and Australian leaders discussed certain parts of Japan's National Security Strategy, including the use of military capabilities in grey zones and the development of attack capabilities against enemy bases.
In March, ships of JMSDF had a joint exercise with French navy's Vendémiaire frigate permanently stationed in West Pacific and invited French naval ships to visit Japan. In May, the Japanese Defense Ministry released a notice about its plan to develop and build next-generation warplanes together with the UK. In September, three of Germany's Typhoon fighters entered Japan's Hyakuri Air Base for the first time and had air battle training with three Japanese F-2 fighters. More than ten western countries, including the US and its allies like Canada, Australia and France, will assign ships to participate in JMSDF's ceremony in celebration of its 70th anniversary in November.
Besides, Japan and Canada's intelligence agencies have established the information-sharing mechanism by cooperating in the US alliance's joint supervision of DPRK merchant ships, clearing the way for Japan to exchange intelligence with the Five Eyes.
Making waves in the region
It is generally believed that Japan's reinforced military bond with the US under the pretext of cooperation will expose regional security to uncertainty.
On the one hand, Japanese military ships and planes have made frequent appearances in the Japanese Sea and the Philippine Sea in the name of joint exercise and training, making trouble for the region while bringing in complex external factors.
At the Japan-ASEAN Forum strongly promoted by Tokyo, some ASEAN countries strongly object to Japan adding fuel to flames on certain issues, and criticized its coveting over maritime interests. The joint military operations by JMSDF and the US Navy and Coast Guard at the Sea of Okhotsk are considered by Russia a violation of the Arctic shipping routes. Foreign media commented, despite Japan's claim to preserve regional peace, its actions have in fact facilitated the military expansion and deteriorated the situation.
On the other hand, Japan's accelerated military cooperation with the US and its allies has not only corroborated its "out-going" military development policy, but also invited a wolf into the house and put the Asia Pacific on high military alert.
Through the succession of military actions, Japan has basically abandoned the "defense only" policy and extended its military antenna to Europe, South Pacific and other regions. Its increasingly high-profile display of military capabilities will very likely escalate the risk of an arms race in the region.