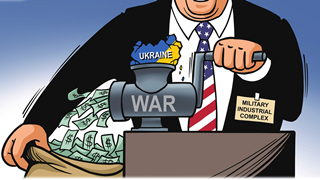 By Jun Sheng
钧 声
The US government recently pledged to provide Ukraine with USD 800 million worth of weapons, ammunition and security aid of other forms, including artillery systems, shells, armored personnel carriers, and helicopters. As the Russia-Ukraine conflict escalates, the US, instead of taking any concrete step to mitigate the situation, has jumped at the chance to make hay through its "arms-dealing diplomacy". Its disgusting and selfish behaviors for the sole purpose of protecting its hegemony have seriously damaged world peace and stability.
近日,美国政府表示将向乌克兰提供价值8亿美元的武器、弹药和其他形式安全援助,包括火炮系统、炮弹、装甲运兵车和直升机等。随着俄乌冲突愈演愈烈,美国不仅没有采取实际举措推动局势缓和,反而大搞"军火外交"趁机渔利。其为维护自身霸权穷兵黩武的恶劣行径,严重破坏世界和平与稳定。
The US has been promoting "arms-dealing diplomacy" around the world for many years, agitating conflicts, exacerbating disputes, and starting wars in the process. The fundamental reason why the US is so obsessed with this – almost its only – approach is that a confrontational and military response to  crisis is a golden opportunity for some American politicians and military-industrial enterprises to profiteer off the war and serve their economic and political interests.
长期以来,美国不断在世界各地推动"军火外交",借此制造冲突、升级矛盾、挑起战争。归根到底,是因为对抗性、军事化的应对危机方式,可以让一些美国政客和军工企业趁机大发战争财,这样做更符合其经济和政治利益。
According to a global arms sales report recently released by SIPRI (Stockholm International Peace Research Institute), from 2017 to 2021, the global arms sales volume contracted by 4.6% compared with the previous five-year period, but America's weapons export grew by 14% in the same period. The fact behind the figure is America's "arms-dealing diplomacy", whereby it constantly stirs up conflicts and fuels regional tension in order to create demand for its weapons and make a fortune out of it.
据瑞典斯德哥尔摩国际和平研究所近期发布的全球军售趋势报告显示,2017年至2021年间,全球武器交易量与前一个五年相比下降4.6%,但同期美国武器出口增长14%。这一数据背后隐藏的事实是,美国对外大搞"军火外交",不断挑起冲突,制造紧张的地区局势,为其军火生意创造刚性需求,利用战争大发横财。
What's pushing America's "arms-dealing diplomacy" is the "military-industrial complex" comprising the Pentagon, arms dealers and politicians. This is a gigantic interest group consisting of American troops, military-industrial enterprises, politicians, and scientific research institutes. It was born during WWII out of the structural connection between America's massive war machine and economic system. In the following decades after the end of the war, the military-industrial complex has seeped into the capillaries of America's decision-making architecture on diplomatic and national security affairs. Its influence intensified rather than inhibited.
美式"军火外交"的背后,是由军方、军火商及政客捆绑形成的"军工复合体"在作祟。军工复合体是二战期间,美国庞大的战争机器与经济体系之间产生结构性关联,形成的由美国军队、军工企业、政界人士、科研机构等组成的庞大利益集团。在随后的几十年中,军工复合体的影响不仅没有受到抑制,反而深度渗透到美国外交和国家安全决策中。
In the past decades, the US has either participated in or started a raft of major wars, such as the Korean War, Vietnam War, Gulf War, Afghan War and Iraqi War. It has also meddled in a series of armed conflicts by supporting proxies and providing weapons and ammunition, causing a staggering amount of casualties and humanitarian disasters. While other people are losing their lives, families, or homes, the American military-industrial enterprises are raising their glasses of champagne in celebration of one record of revenues after another, turning geopolitical tension into their milch cow.
多年来,美国先后参与或发动了朝鲜战争、越南战争、海湾战争、阿富汗战争、伊拉克战争等主要战争,还通过扶植代理人、提供武器弹药等方式介入一系列武装冲突,造成大量人员伤亡以及人道主义灾难。借助这一系列战争与冲突,美国军工企业赚得盆满钵满,地缘政治紧张局势成为美国军火商的印钞机。
For so many years, America has played a part in almost every war that ever broke out on the surface of the planet, either through direct engagement or by providing weapons and equipment. To date, the country has provided weapons to nearly 100 countries and controls 39% of the global arms market. The very existence of its military-industrial complex decides that America needs enemies, and it is always motivated to seek new ones around the world.
多年来,世界上哪里有战争,哪里就有美国的身影。即使美国没有直接参战,战场上也不难找到美国的武器和装备。目前,美国向近百个国家提供武器,控制着全球39%的武器市场。美国军工复合体的利益,决定了美国需要敌人,因此它总有动力在全球寻找新的敌人。
The US has tried hard to paint war as a "legit option" in its foreign policy, constantly trampled upon international law, and wantonly used force to invade other countries or interfere in their internal affairs, all to serve its own interests. Is this how America lives up to its daily preaching of "human rights" and "democracy"? In the meantime, its military spending has set new records for years in a row, but the government has no money to improve domestic infrastructure and people's living standards. Is this the country that claims to be "of the people, by the people, for the people"? It is high time for the war-mongering, peace-wrecking US to stop its "arms-dealing diplomacy"!
为了一己私利,一再将战争包装为其对外政策的"合理选项",不断践踏国际法,肆意动用武力干涉甚至入侵别国,这难道就是美国总挂在嘴边的"人权"和"民主"?军费开支屡创新高,却拿不出钱改善国内基础设施、解决民生问题,这难道就是美国鼓吹的"民有、民治、民享"?美国穷兵黩武,破坏和平的"军火外交"该停止了!