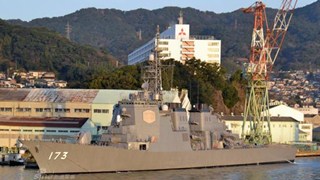 By Feng Kaibao, Wei Xinran
冯开宝 韦欣然
The Japanese government finalized the amendment to the Self-Defense Forces Law at a cabinet meeting on February 8, allowing foreign nationals to evacuate onboard JSDF's planes in case of riots overseas. On February 9, the Amphibious Rapid Deployment Brigade of Japan Ground Self Defense Force (JGSDF) and America's Marine Corps held a joint military exercise in California of west US.
2月8日,日本政府在内阁会议上敲定了《自卫队法》修正案,允许在海外发生骚乱时,外国人也可乘坐自卫队飞机撤离。2月9日,日本陆上自卫队"水陆机动团"与美国海军陆战队在美国西部加利福尼亚州举行联合军事训练。
In recent years, Japan has been busy deepening military cooperation with the US, accelerating its own military buildup, and expanding the scope of JSDF activities, laying bare its ambition to break free from the military restrictions.
日本近年来一边深化与美国的军事合作,一边加快自身军力建设,并不断拓宽自卫队活动范围,其谋求军事"完全松绑"的野心昭然若揭。
Record-setting defense budget
防卫开支突破限制创新高
In June 2021, Japan lifted the 40-year-long cap on its defense budget – 1% of GDP and replaced it with a new policy that takes "needs for military development" as the top criterion, further revealing its intention of smashing the military restrictions upon the country.
2021年6月,日本废止已执行40余年的防卫费预算占GDP1%的上限限制,确立了以"军力建设需求"为纲的防卫费开支新导向,表明日本防卫开支将无上限,军力建设"自我松绑"更加露骨。
In November 2021, the Japanese government officially passed the JPY 773.8 billion supplementary budget for FY2021 proposed by the Defense Ministry, labeling it as an enhanced accelerator of Japan's defense capability. The supplement, coupled with the JPY 5.34 trillion defense budget adopted in December 2020, drove the total number over JPY 6 trillion for the first time in history.
2021年11月,日本政府正式通过了防卫省提出的高达7738亿日元的2021财年补充预算案,并将之定位为"日本防卫能力的强化加速包"。加上2020年12月通过的2021财年5.34万亿日元的防卫预算,日本年度防卫费用总额首次超过6万亿日元。
Japanese media also reported that the country will amend its National Defense Program Guidelines (NDPG) and Medium Term Defense Program (MTDP) in 2022, and the new five-year defense budget is likely to exceed JPY 30 trillion for the first time, a nearly 3 trillion increase from the previous period.
此外,据日本媒体报道,日本将于2022年修订《防卫计划大纲》《中期防卫力量整备计划》,新五年期防卫费预算计划首超30万亿日元,较前五年期防卫费开支增加近3万亿日元。
Accelerated R&D and commissioning of new military equipment
加快新式军事装备研发列装
Purchase of advanced military equipment is an important part of Japan's efforts to speed up its military buildup. It is reported that the increased defense budget will mainly be spent on the construction of military-industrial conglomerates, purchase of new military equipment, and maintenance and upgrade of the equipment and bases.
采购先进军事装备是日本加速军事力量建设的重要内容。据报道,日本"军事力量加速强化经费"将重点投向日本军工企业建设、新式军事装备采购以及军事装备、基地维护升级等。
After long years of input and operation, Japan has established a multi-dimension anti-missile air-defense pre-warning system covering the land, sea, air and space based on a large variety of platforms such as radars, satellites, airplanes and vessels. It also gives priority to maintaining and reinforcing combined anti-missile and air-defense capabilities when strengthening the military.
经过长年累月的资源投入与暗中经营,日本构建了基于雷达、卫星、飞机以及舰艇等平台的陆海空天多维反导防空预警系统,并将保有与强化联合反导防空能力视作军力建设的优先方向。
Japan will use the FY2021 supplementary defense budget to purchase Patriot Advanced Capability 3 (PAC-3) land-based anti-missile system, Type 03 mid-range ground-to-air missile, and other weapons and equipment to upgrade its combined missile defense capability more quickly. It also plans to buy a batch of Type 12 and Type 18 torpedoes, three P-1 anti-submarine patrol aircraft, one C-2 transport plane, 13 UH-2 multi-purpose military helicopters, and two sets of ship-borne vertical launch systems, as well as repair and upgrade the Okinawa military base.
日本2021财年防卫补充预算将用于新购"爱国者-3"增强版陆基反导系统和03式改进版中程地对空导弹等武器装备,以加快升级其联合反导防御能力。此外,日本今年还计划采购若干12式鱼雷、18式鱼雷,新购P-1反潜巡逻机3架、C-2运输机1架、UH-2多用途军用直升机13架、舰载垂直发射系统2套,修缮升级冲绳地区军事基地等。
Improvement of real-combat simulation in Japan-US exercises
日美联演实战化程度提高
Japan and the US had up to 118 public exercises and training in 2021 in spite of the pandemic, involving joint operations, anti-submarine combat, cyber combat, and coordinated airlanding. The events simulated real combats as much as possible with more definite objectives.
在疫情因素限制之下,2021年日美公开联演联训仍高达118场,涉及联合作战、联合反潜、联合网络作战、联合机降协同等诸多类型。这些联合演训实战化程度高,演训目标指向也愈发具体。
The United States Marine Corps and JGSDF had their largest-ever joint field training exercise Resolute Dragon 21 from December 4 to 17, 2021. Information from the Japanese Defense Ministry showed that the exercise, simulating the attack and defense of the southwestern islands, spanning multiple locations, and including such subjects as air maneuvering and anti-ship combat, was aimed to test JGSDF's cross-terrain combat capability and improve the two countries' military coordination.
2021年12月4日至17日,日本陆上自卫队与美国海军陆战队联合实施历史上规模最大的"坚毅之龙•21"联合实战演习。日本防卫省官方资料显示,该演习强调"西南岛屿"攻防作战背景,演习横跨诸多地点,包含空中机动作战、反舰作战等多项内容,意在检验日本陆上自卫队跨域作战能力,并图谋提升日美军事协作水平。 
Japan is no longer beating about the bush about its intention to break away from military restrictions and accelerate military development. The force and credibility of its Pacifist Constitution have long been compromised and some Japanese politicians are all but wearing the words "confrontation" and "militarism" on their foreheads. The international community and all peace-loving people around the world must be highly vigilant against this ominous resurgence of militarist trend.
日本不遗余力加快军力建设,谋求军事"完全松绑",其做法愈发露骨。日本和平宪法的效力、可信度早已大打折扣,一些政客对抗思维与军国主义妄念甚嚣尘上。对于日本军国主义卷土重来的危险性,国际社会与广大热爱和平人士必须高度警惕。
(The authors are from the College of International Studies, National University of Defense Technology)
(作者单位:国防科技大学国际关系学院)