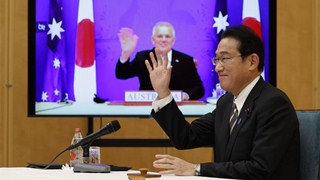 据日本共同社报道,日本和澳大利亚两国首脑近期签署旨在便利双边防务与安全合作的《互惠准入协定》(RAA)。根据协定内容,日澳将简化对方军事力量(人员、装备等)进入本国领土、依托本国军事设施开展行动所需入境和通关手续。
The leaders of Japan and Australia recently signed the Reciprocal Access Agreement (RAA) to facilitate bilateral defense and security cooperation. According to the agreement, the two countries will streamline the entry and customs clearance procedures needed to admit each other's military forces (personnel, equipment, etc.) to enter their territory and carry out operations based on their military facilities.
澳大利亚亦成为继美国后,第二个与日本签署此类协定的国家。该协定的签署,标志着日澳防务与安全合作步入新阶段,成为军事"准盟友"。
Australia is the second country after the US to sign such an agreement with Japan, and the inking made the two countries quasi military allies with their defense and security cooperation entering a new stage.
事实上,自日澳关系于2014年正式升级为"特殊战略伙伴关系"以来,两国防务与安全合作步伐显著提速,关注重点由最初的人道主义救援等非传统安全领域,向聚焦"大国竞争"、应对所谓"大国威胁"转变,呈现"有计划""分阶段""重落实"的鲜明特征。尤其是2021年6月,日本政府正式将澳大利亚列入"武器等防护"对象。同年11月,在日本近海举行的日澳海上联合军事训练中,日海上自卫队"稻妻"号护卫舰首次对澳海军"瓦拉蒙加"号护卫舰实施防护,这也是日方首次对美军以外的对象采取此类措施。此外,日澳预计将于2022年完成互遣联络军事人员事宜。
In fact, Japan and Australia have obviously sped up their defense and security cooperation ever since they elevated the bilateral relationship to be "special strategic partnership" in 2014, and the focus of cooperation has shifted from non-traditional security domains such as humanitarian aid to the so-called "major-country competition" and tackling "major-country threats" in a planned and phased manner with targeted actions. In June 2021, the Japanese government officially listed Australia as the second country after the US, whose weapons and equipment can be protected by Japan's Self-Defense Forces (SDF). During the Japan-Australia joint maritime training off the Japanese coast in November that year, JMSDF's frigate Inazuma escorted the Australian Navy's HMAS Warramunga frigate, the first time that the Japanese side took such a measure for a foreign vessel other than America's. Besides, Tokyo and Canberra also expect to complete the mutual dispatch of military liaison officers within 2022.
作为美涉足亚太安全事务的"南北双锚",美持续深化"印太战略"布局,将美日印澳"四方安全对话"作为编织复合型地区联盟网络核心架构的事实,客观上为日澳共谋战略自主性、防务独立性,以及地区事务话语权提供了相对宽松的运筹与协调空间。
Japan and Australia have always served as two anchors of US' attempt to meddle in the Asia-Pacific affairs. Now the US has continued to advance the "Indo-Pacific strategy" and taken the US-Japan-India-Australia "quadrilateral security dialogue" as the core structure for weaving a composite regional network of allies.. This has created a relatively relaxing environment for Japan and Australia to, through maneuvering and coordination, jointly seek strategic independence, defense independence, and a greater say over regional affairs.
对日方来说,自2016年实施新安保法,实质上突破和平宪法对"专守防卫"的限制后,日本着手加快打造与美国盟友伙伴间的双多边防务合作进程。澳大利亚因地缘位置,且拥有较为系统完备的军事资源,成为日本南下扩大自身影响力的"可靠选项"。据日媒报道,日还有意将与澳签署合作协定塑造成与英、法等域外大国开展防务合作的样板,为实现其更大战略企图预设路径。
With the passing of the New Security Act in 2016, Japan practically broke the limitation of "defense only" imposed by its Pacifist Constitution, after which it has moved faster to forge bilateral and multilateral defense cooperation with America's allies and partners. Australia, with its favorable location and well-rounded and systematic military resources, stands out as a reliable option that Japan can use to expand its influence southward. According to Japanese media, Tokyo intends to copy what it did with Australia – signing the cooperation agreement – in seeking defense cooperation with other major countries like Britain and France, envisioning for itself a blueprint for achieving a much grander strategic ambition.
对澳方来说,日本是其调头北上,提升自身对敏感地区热点问题反应速度,增强地区事务参与度与话语权,配合美落实"印太战略"愿景,坐实地区"中等强国"身份定位的理想支点。
For Australia, Japan is also an ideal pivot to help it become more responsive to sensitive regional hotspot issues in the northern direction, enhance its engagement and discourse power in regional affairs, assist in implementing America's "Indo-Pacific strategy", and cement its position as a "medium power".
现阶段,日澳防务与安全合作的前景,除受两国各自战略目标、利益诉求等因素影响外,仍主要取决于美国对地区安全形势和大国博弈走向的研判,并将在很大程度上决定日澳"准盟友"关系的上限,"美主盟从"的现状并未发生根本改变。然而,值得注意的是,日澳刻意渲染"大国威胁",构建极具冷战色彩的防务合作关系的做法,或将成为搅动地区安全秩序的又一大"乱源"。
At this stage, the prospects of Japan-Australia defense and security cooperation are still largely dependent on how America judges the regional security situation and the trend of major-country games, although their own strategic objectives and appeals do play a part. It is also America's judgment and decision that will largely decide how far the quasi alliance between Japan and Australia can go – the "US leads, allies follow" situation remains unchanged. What's worth noting is that what Tokyo and Canberra are doing now – hyping up major-country threats and building Cold War-like defense cooperation – may end up becoming a new scourge that will rock the regional security order.