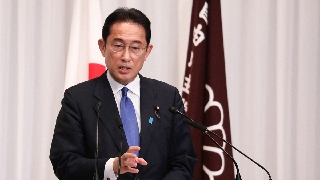 Fumio Kishida Photo:AFP
Japanese Prime Minster Fumio Kishida protested and expressed his anger toward US military personnel having conducted no coronavirus tests before coming to Japan, according to Japan-based TBS News on Friday.
All the US forces in Japan had exempted their personnel from testing for novel coronavirus infections upon departure from the US from September 3 in line with US policy, Japanese Foreign Minister Yoshimasa Hayashi said Friday. The practice wasn't exposed until a group infection was reported at US Marine Corps' Camp Hansen in Okinawa Prefecture earlier this month.
Is it possible that the Japanese government was ignorant of this move by the US military since September? Had the group infection at Camp Hansen not been exposed, would the Japanese government continue to pretend to be ignorant even when the Omicron variant is raging across the world?
This incident once again demonstrates the inequalities of the US-Japan alliance, in which Japan lies in a much weaker position. Under an agreement between Japan and the US, quarantine measures for US military personnel on arrival are carried out by the US side, which means they are not subject to Japanese quarantine rules at airports. In other words, Japan's quarantine measures do not apply to the US military.
When the Japanese government implemented strict border controls in a bid to prevent the Omicron variant from entering by banning the entry of non-resident foreign nationals, US military personnel can even come to Japan without coronavirus tests. This highlights the inequality between Japan and the US in terms of legal jurisdiction.
US troops stationed in Japan should abide by Japanese laws, rules and regulations, and those who violate them should be punished accordingly. This is what an equal relationship should be. But the one between Japan and the US, as we see it, apparently does not work like that.
In terms of Kishida's response, "his anger and protest are primarily a show put up to the domestic public, in an attempt to appease their discontent and anxiety," Yang Xiyu, a senior research fellow at the China Institute of International Studies in Beijing, told the Global Times, "But Kishida should be clearly aware that such protest cannot fundamentally change the inequalities between Tokyo and Washington."
The US will not revise the agreement regarding the status of United States Armed Forces in Japan even though it has undermined Japan's public health security. As a result, any protest will be futile. Although Hayashi said that the US' practice of not carrying out coronavirus tests on military personnel before arriving in Japan "has now been changed at Japan's request," US troops stationed in Japan are not likely to fully comply with Japanese standards when it comes to epidemic control and prevention, and the US troops in Japan cannot be regulated by Japan. Tokyo is incapable of changing its weak stance in its alliance with Washington. It can be anticipated that in order to maintain US-Japan alliance and seek the US' protection in security, similar scenes will repeat time and again in the future.
In the context of the US' lax quarantine measures, and the inequalities of US-Japan alliance, the US troops stationed in Japan will become a glaring loophole in Japan's efforts to prevent the spread of the virus. While the Omicron variant is wreaking havoc, US military personnel will pose a huge challenge to Japan. It turns out the Japanese public, in particular residents living nearby US bases such as those in Okinawa Prefecture, will finally bear the risks. This is a modern tragedy of Japan.