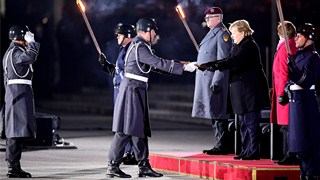 BERLIN, Dec. 3 (Xinhua) -- Outgoing German Chancellor Angela Merkel was honored here on Thursday evening with a military grand tattoo ceremony, the most solemn ceremony of the German armed forces.
Merkel said in her speech that she felt gratitude and humility, noting that trust is the most important asset in politics.
She described the 16 years as chancellor as eventful and challenging. She recalled, among other things, the financial crisis in 2008 and the many people seeking refuge in 2015.
Merkel also thanked the frontline workers fighting the COVID-19 pandemic, saying that those people deserve "our special thanks and highest recognition."
As is the tradition, Merkel chose the music for her military grand tattoo ceremony.
The ceremony took place in Berlin in the courtyard of the Ministry of Defence. Due to the pandemic, there were significantly fewer guests on site than originally planned, according to the German government.
Merkel wished her designated successor Olaf Scholz and the future government every success.
Merkel, born in 1954, studied physics and completed a doctorate before moving into politics, becoming a member of the German Bundestag in 1990.