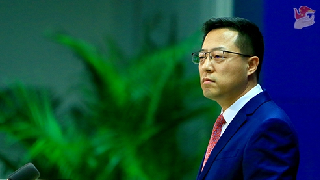 China on Tuesday said the United States intends to militarize the Indo-Pacific region to contain China, as a Pentagon report has clearly shown.
The U.S. Defense Department will be upgrading and expanding its military facilities in Guam and Australia to "keep pace with the Chinese military" in the region, the Pentagon announced on Monday after completing the report, known as the Global Posture Review.
"We resolutely oppose the U.S. move to increase its military spending and expand its military prowess to preserve its military hegemony on the pretext of the 'China threat' conspiracy," Zhao Lijian, spokesperson for the Chinese Foreign Ministry, told a regular briefing in Beijing.
He urged the U.S. to abandon the Cold War mentality of fabricating an imagined enemy, and stop words and deeds that threaten international peace and security.
China improves its defense capability only to safeguard its sovereignty, security and development interests, and to meet the needs of safeguarding peace and security of the region and the world at large, added Zhao.
"That is, in nature, different from America's show of force all over the world, seeking hegemony, bullying around, and undermining regional peace and stability."
The Pentagon's latest move comes in the wake of a military pact between the U.S., Britain and Australia, known as AUKUS, which will enable Australia to build nuclear-powered submarines with technology provided by the other two countries.
China has repeatedly said the deal poses a risk of nuclear proliferation in the region, and undermines regional peace and stability.