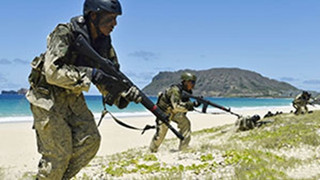 By LanShunzheng
The defense budget for Fiscal Year 2022 submitted by the Japanese Ministry of Defense included a spending of 10.2 billion Japanese Yen for the acceptance of a mid-sized transport vessel and a small one. The media reported that the request was made by the Japan Ground Self Defense Force (JGSDF), and the transport vessels will be used to project "mobile forces" to remote islands. Analysts said the move indicated JSDF's intention of strengthening its so-called remote-island defense strategy and the amphibious combat capability.
Japan consists of more than 6,800 islands and all of them – with the exception of Honshu, Shikoku, Kyushu and Hokkaido – are called remote islands. Japan has paid closer attention to its remote-island defense in recent years with prominence to those in the southwest, which, in Japan's eyes, not only concern economic development, but also its national defense, security cooperation with the US, and the contention for sea power in the East China Sea and West Pacific.
Japan has been tempering its amphibious combat capabilities in the past few years and the JSDF believes that this effort has been impeded by the lack of suitable transportation vessels, without which the troops cannot move swiftly among different islands and reinforcements won't be able to arrive quickly from other regions.
Nozomu Yoshitomi, a retired major general of JGSDF, previously said in an article that there were few ports on the southwestern islands that could berth large vessels and many islands were surrounded by coral reefs, which seriously limited the routes for large vessels to approach and the speed and flexibility of island recapture operations.
In addition, the US-Japan joint amphibious assaults rely heavily on the large vessels to transport reinforcements and replenishments, but they are usually deployed far away from the landing troops, and it takes much time to transport the troops to large amphibious assault ships.
It is also reported that JGSDF has been seeking an alternative to the Type 96 wheeled armored vehicle to enhance its island-seizing capability, yet information shows that the alternative may be bigger and heavier than the Type 96 wheeled armored vehicle and therefore slower in deployment. The MV-22 Osprey tiltrotor aircraft that JSDF plans to buy and the CH-47 Chinook transport helicopter currently in service cannot hoist the alternative, and Japan's self-developed C-2 transport plane, though it can transport the vehicle by air, is unable to land on islands where there isn't an airport available and the alternative vehicle isn't good at fording. This means that if suited transport vessels don't come along, JSDF will have no choice but use the landing craft air cushion (LCAC) onboard the Ōsumi-class amphibious transport vessel to get the alternative vehicle ashore.
Therefore, the JGSDF thinks the more flexible medium- and small-sized transport vessels are better suited for island operations that require a high level of mobility, lightweight and high efficiency, and can be deployed more quickly during island-seizing operations to support islands under attack.
It must be pointed out that both the recent budget request by JGSDF and the various moves made by JSDF in recent years point to Japan's enthusiasm for developing amphibious combat forces. Its ill intentions behind such moves are likely to jeopardize regional security and stability, and are worth close attention and high alert from the international community.