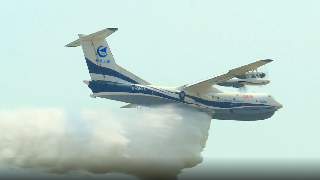 China's independently developed AG600 large amphibious aircraft performed a flight at the 13th China International Aviation and Aerospace Exhibition, or Airshow China 2021, which opened Tuesday in the southern port city of Zhuhai, Guangdong Province.
The aircraft displayed its capabilities of aerial water-dropping by opening the hatch door underneath and dropping nine tonnes of water during the flight.
Code-named Kunlong, the AG600 is a key piece of aeronautical equipment in China's emergency rescue system.
It completed its maiden flight from land in 2017, its first takeoff from a water reservoir in 2018, and its first sea takeoff in 2020.