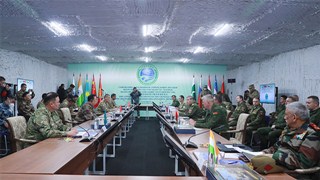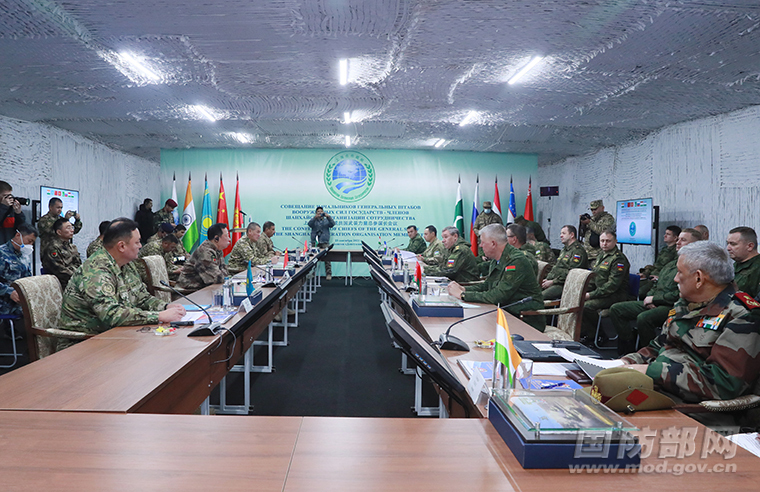 General Li Zuocheng (2nd L, front), member of China's Central Military Commission (CMC) and chief of the Joint Staff Department under the CMC, attends the meeting of chiefs of general staff of the Shanghai Cooperation Organization (SCO) member states in Orenburg Oblast, Russia on September 23, 2021. (Photo by Li Xiaowei)
9月23日,中央军委委员、军委联合参谋部参谋长李作成在俄罗斯奥伦堡州出席上合组织成员国军队总参谋长会议。图为会议现场。李晓伟摄
The Chiefs of General Staff of the armed forces of the Shanghai Cooperation Organization (SCO) member states held a meeting at the Donguz training range in Orenburg Oblast, Russia on September 23. General Li Zuocheng, member of China's Central Military Commission (CMC) and chief of the Joint Staff Department under the CMC, attended the meeting.
9月23日,上海合作组织成员国军队总参谋长会议在俄罗斯奥伦堡州东古兹靶场举行。中央军委委员、军委联合参谋部参谋长李作成出席会议。
Since its establishment in 2001, by upholding the banner of "Shanghai spirit" of mutual trust, mutual benefit, equality, consultation, respect for cultural diversity and pursuit of common development, the SCO has played an important role in promoting regional development, security and stability in the past two decades. Participants of the meeting exchanged views on the current international and regional situations, security challenges and further cooperation of military security. They also expressed concern about the new risks in the situation of Afghanistan posed by the hasty withdrawal of foreign troops from the country, and signed jointly the minutes of the meeting of chiefs of general staff of the SCO member states.
会议指出,上海合作组织成立20年来,高举"上海精神"旗帜,为促进地区发展和安全稳定发挥了重要作用。与会代表就当前国际和地区形势、面临的安全挑战和深化军事安全合作等问题交换意见,对阿富汗局势因外国军队仓促撤出带来新的风险表示关注,共同签署了《上海合作组织成员国军队总参谋长会议纪要》。
In addition, participants of the meeting observed the Peace Mission-2021 joint anti-terrorist military exercise and all agreed that this exercise has improved the coordination capacity of the militaries of the SCO members in fighting against the international terrorist forces.
与会代表还观摩了"和平使命-2021"联合反恐军事演习,一致认为演习提升了各国军队打击国际恐怖势力的协同能力。
On the same day, General Li Zuocheng met with Russia's Chief of General Staff General Valery Gerasimov.
当天,李作成会见了俄罗斯军队总参谋长格拉西莫夫等外军领导人。