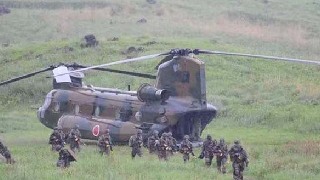 By Shao Yongling and Song Pengchao
邵永灵 宋鹏超
File photo: JGSDF troops during exercise (huanqiu.com)
资料图:日本陆上自卫队演习场景资料图(环球网)
Japanese media reported that the Japan Ground Self-Defense Force (JGSDF) launched a massive military exercise on September 15 involving about 100,000 personnel, 20,000 vehicles and 120 aircraft, and it will last till late November. It is reported that it is the largest military exercise conducted by the Japan Self-Defense Forces (JSDF) since 1993.
据日本媒体报道,日本陆上自卫队从9月15日开始举行大规模军事演习,约10万名人员、2万辆车辆以及120架飞机参演,演习将持续到11月下旬。报道称,这是日本自卫队自1993年以来,首次举行如此大规模的军事演习。
According to Japanese Defense Minister Nobuo Kishi, the exercise would simulate the response to possible island attacks and hone JSDF's fast and large-scale delivery capability, but that's just an excuse to gloss over an exercise of such a large scale, and the true purpose is to get ready for possible massive military operations and cooperate with the US military in demonstrating deterrence in the Asia Pacific.
日本防卫大臣岸信夫表示,"这次演习要应对可能面临的岛屿攻击,关键是具备快速且大规模的运送能力"。岸信夫的说法,只是此次日本自卫队进行大规模演习的借口,其真实目的是为应对可能发生的大规模军事行动作准备,并试图配合美军在亚太地区显示威慑。
Islands in the southwest of Japan, including the disputed islands between China and Japan, are all very small. If war broke out, it would be impossible to project so many troops there. Japan having such a large-scale exercise involving so many troops has nothing to do with island battles.
日本西南方向的岛屿,包括中日之间的争议岛屿,面积都非常小。在这样的岛屿上如果真的发生战事,是不可能有大规模的兵力投送的。所以,日本动员这么多人去搞一个如此大规模的演习,和岛屿争夺、岛屿作战是没有多大关系的。 
The JGSDF's motive and purpose of this exercise are worth close attention. For one thing, Tokyo is having a drill for military operations on an even larger scale. In other words, should a more massive military operation take place in Asia Pacific and ground forces were required, JGDSF would be well-positioned to play a bigger part. For another, Japan is cooperating with the US military in posing deterrence to other countries in the Asian-Pacific region.
但是,日本陆上自卫队搞一个如此大规模的演习,其动机和目的非常值得关注。这至少包括两个方面:第一,日本其实是为更大规模的军事行动练兵。就是说,如果在亚太地区有更大规模的军事行动,特别是需要使用地面部队的话,日本陆上自卫队就可以发挥更大的作用。第二,日本为了配合美军对亚太地区其他国家构成一个威慑态势。
File photo: 135 JGSDF members stationed in Otsu, Shiga Prefecture of Japan, have been confirmed with COVID-19 infection.
资料图:日本滋贺县大津驻屯地已有135名自卫队员确诊感染新冠肺炎
The recent exercise, with a large scale and obvious real-combat intentions, is worth attention in the following aspects. 
日本这次演习规模大、实战意图明显。有以下几点值得关注。
What's most noteworthy about the exercise is its scale, which is said to involve about 100,000 troops, accounting for two-thirds of the total JGSDF.
首先,最值得我们关注的是演习的规模。据说,这一次演习约有10万人参加,占陆上自卫队总人数的三分之二。
The second aspect is why the exercise is launched. Japan claimed that it is aimed at preparedness for any change in the Diaoyu Island situation.
第二个值得关注的就是演习的理由。据说,日本声称,此次演习是要为钓鱼岛等局势出现变化时作准备。
The third aspect is the current pandemic situation in Japan, which remains critical. News from JGSDF showed that 135 of its troops stationed in Otsu of Shiga Prefecture were confirmed with COVID-19 infection between August 23 and September 1. So it's hard to tell whether the exercise will cause a widespread transmission of the virus among the JGSDF.
第三个值得关注的就是眼下的疫情。今年,日本的疫情还是很严重的。据日本陆上自卫队的消息,在8月23日到9月1日期间,在滋贺县大津驻屯地已经有135人确诊了。所以,此次大规模演习,会不会导致日本陆上自卫队疫情的大范围传播,暂时也很难预料。
Japanese Defense Ministry previously announced that it will seek a defense budget of 5.4 trillion Japanese Yen (about RMB 319.7 billion) in the fiscal year of 2022 "to cope with the mounting challenge posed by China's military expansion". Japan's continuous efforts to intensify its defense forces on the excuse of the so-called "China threat" exposes its ambition to become a political and military power in the region.
日本防卫省此前宣布,将在2022财年寻求5.4万亿日元(约合人民币3197亿元)的防卫预算,"以应对中国军力扩张带来的越来越大的挑战"。当前日本以所谓"中国威胁"为借口,不断强化防卫力量建设,暴露了其谋求地区政治军事大国的野心。
The US is advancing its so-called Indo-Pacific strategy in the region, and it is rallying with its allies to contain and restrict its rivals, including conducting joint military exercises on various levels. Japan, as America's most reliable partner in the region, closely follows its lead on many issues. Therefore, when Japan is taking a series of moves in the defense sector, especially when it is consistently increasing its military expenditure, we need to pay close attention to their near-term impacts as well as the country's long-term political and military ambition. At the end of the day, Tokyo wants to overthrow the Yalta system established after WWII and completely shed its position as a defeated nation.
现在,美国在印太地区有所谓的印太战略,同时它还纠集盟友针对与其竞争的大国,进行各种围堵和遏制,包括进行各种层次的联合军演。日本是美国在印太地区最可依靠的国家,在很多问题上是紧密配合美军的。所以,对于日本在防务领域的一系列动作,特别是持续地扩大军费开支,我们不仅要关注其近期可能产生的影响,更要关注日本长期的政治军事野心。说到底,日本就是想推翻在二战之后所建立的"雅尔塔"体制,企图彻底摆脱日本二战战败国的身份。
Editor's note: This article is originally published on military.cnr.cn as an interview between Song Pengchao, a military reporter, and military expert Shao Yongling. It is edited and translated from Chinese into English by the China Military Online. The information, ideas or opinions appearing in this article do not necessarily reflect the views of eng.chinamil.com.cn.