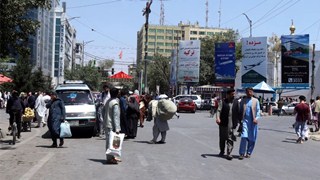 By Shi Xiantao
The Taliban announced the formation of an interim government in Kabul on September 7, vowing to ensure "lasting peace, prosperity and development" for Afghanistan. Taliban spokesperson ZabihullahMujahid said the supreme commander of the Taliban,HibatullahAkhundzada will be the new emir.
According to analysts, although Taliban has basically controlled all Afghan territory in a military sense, taking over the state power is a much bigger challenge for the group – internally it has to restore stability, mediate for ethnic reconciliation and improve the economy and livelihood; externally it has to properly handle the relations with neighboring countries and obtain international recognition as soon as possible.
Mujahid announced a list of key officials of the interim government on September 7, including acting prime minister and deputy prime minister, and acting internal affairs minister, defense minister and foreign minister. In a statement released after the announcement of the interim government, Taliban said Afghanistan is willing to develop stable and healthy relations with neighboring countries and other countries around the world on the basis of mutual respect, and will not allow anyone or any organization to threaten the security of other countries on Afghan soil. The Afghan government will try to protect the security of all diplomatic missions, humanitarian organizations and foreign investors.
How to coordinate the various factions in Afghanistan is a major headache for the incoming Taliban regime. According to an article published by Russian newspaper NovyeIzvestia on its website, Taliban is mainly comprised of the Pashtun ethnicity that accounts for 42% of the national population. Absorbing representatives of other ethnic groups and factions into the national governance system is very important, otherwise, chaos and civil wars are inevitable. Yan Wei, professor at the Institute of Middle Eastern Studies of Northwest University, said bridging the ethnic conflicts and ensuring the rights of ethnic minorities is a great challenge facing the Taliban.
Economy and livelihood are also pressing issues for Taliban after it takes power. The 20-year-long war has left Afghanistan devastated and its people in dire misery. It is reported that the country now has an unemployment rate as high as 38% and about 72% of its people live under the poverty line. Mujahid said on August 31 that as Afghanistan faces economic strains, businesspeople and investors in the country should all do their bit to help recover the economy. He also hoped to maintain good political and trade relationships with all countries.
Analysts also pointed out the complicated composition of personnel within the Taliban organization and their lack of governing experience, suggesting that the leadership should enhance internal management and effectively manage and control divergences.
Regarding external affairs, securing the international community's recognition of its regime is the chief challenge for Taliban.
White House Spokesperson Jen Psaki said on September 7 that "there is no rush to recognition" of the Taliban regime, "and that will be planned dependent on what steps the Taliban takes". JosepBorrellFontelles, High Representative of the EU for Foreign Affairs and Security Policy, said on September 3 aftertheinformal meeting of Foreign Affairs Ministers (Gymnich) that the Union's contact with Taliban will depend on five conditions: Taliban's commitment to not letting Afghanistan become a base of outputting terrorism to other countries; respect for human rights, especially women's rights, rule of law and freedom of the press; establishment of an inclusive and representative transition government through negotiation; free access to Afghanistan for humanitarian aid; and permission for foreign citizens and Afghans to leave as it promised.
A Russian newspaper also published an article on its website urging Taliban to first prove its willingness for reconciliation and construction, cut ties with Al-Qaeda, and evict armed IS members and other Jihadists from the country.
At the first press conference held by Taliban after it entered Kabul, Mujahid said the Taliban plans to form an inclusive government in Afghanistan and hopes to maintain good relations with all parties to develop the economy and prosper the country.