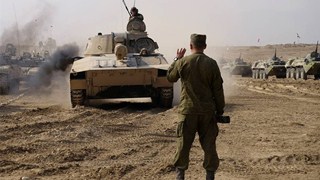 BISHKEK, Sept. 7 (Xinhua) -- The Rubezh-2021 joint exercises of the Collective Forces of Rapid Deployment of the Central Asian region of the Collective Security Treaty Organization (CSTO) were held in Kyrgyzstan on Tuesday.
The CSTO Joint Staff and Secretariat, and military contingents and operational groups of CSTO member states, namely Kazakhstan, Kyrgyzstan, Russia and Tajikistan, attended the exercises, said the press service of the Kyrgyz Ministry of Defense.
In total, more than 1,000 people and 150 units of military and special equipment, including multiple launch rocket systems and aviation such as Su-30SM fighters, Su-25 attack aircraft and Mi-8 helicopters were involved.
The exercises will focus on the preparation and conduct of hostilities to destroy illegal armed groups that invade CSTO member state's territory.
The exercises mainly aim to improve the practical skills of officials of the command and control bodies of the troops and increase the coherence of the units in implementing tasks during a joint operation.
The CSTO Collective Forces of Rapid Deployment of the Central Asian region are designed to carry out tasks to ensure the military security of the CSTO member states, including repelling external military aggression and conducting joint counterterrorist operations.
The total number of Collective Forces of Rapid Deployment is about 5,000 people.