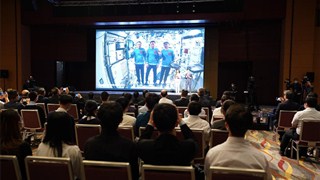 Chinese astronauts on board the Tiangong space station have a real-time video dialogue with Hong Kong students on Sept 3, 2021. [Photo/Xinhua]
Astronauts on board China's Tiangong space station had a real-time video dialogue on Friday afternoon with a group of students in the Hong Kong Special Administrative Region.
During the dialogue that lasted about 20 minutes, the three crew members of the Shenzhou XII mission - Major General Nie Haisheng, the mission commander, as well as Major General Liu Boming and Senior Colonel Tang Hongbo - greeted participants in Hong Kong and then answered questions from the students, such as how they conduct experiments, do physical exercise and drink water. They also showed the students different parts inside the colossal spacecraft and demonstrated the functions of some equipment.
Taking part in the event were HKSAR Chief Executive Carrie Lam Cheng Yuet-ngor; Tan Tieniu, deputy director of the Liaison Office of the Central People's Government in the HKSAR; Zhou Jianping, chief designer of China's manned space program; Hao Chun, director of the China Manned Space Agency; Yang Hong, chief designer of the Tiangong space station; as well as senior HKSAR officials and a group of Hong Kong teachers and students.
Participants watched a video about the country's space station program and the Shenzhou XII mission and listened to Zhou's speech about the latest developments in the space station program.
Zhou and several space officials including Yang Liwei, the first Chinese in outer space and now a senior planner, also answered questions from Hong Kong residents before the dialogue.
The China Manned Space Agency said the occasion was intended to respond to Hong Kong people's questions concerning the motherland's space endeavors, foster cooperation and communication between the mainland and Hong Kong, encourage and enable Hong Kong youngsters to know about space exploration, and inspire their pursuit of adventure and innovation as well as patriotism.
The Shenzhou XII mission was launched on a Long March 2F carrier rocket that blasted off on June 17 from the Jiuquan Satellite Launch Center in northwestern China. The astronauts entered the Tiangong space station later that day after the two spacecraft docked with each other, becoming the first inhabitants of the station.
By now, both of the crew's two planned spacewalks have been successfully completed. They will continue performing scientific experiments and technological tests until mid-September, when they will return to Earth.
The three-month Shenzhou XII mission, the nation's seventh manned spaceflight, is part of the Tiangong program, which aims to complete a three-component station in a low-Earth orbit before the end of 2022.