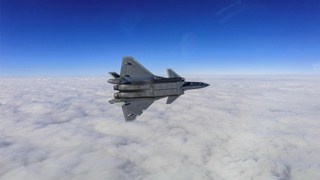 The J-20 aircraft of the PLA Air Force conducts flight training. (File Photo by Huang Zhenwei/Xinhua)
By Liu Jimei
BEIJING, Sep. 1 -- The 13th China International Aviation and Aerospace Exhibition, usually known as Airshow China, will be held from September 28 to October 3 in Zhuhai, southern China's Guangdong Province. Senior Colonel Shen Jinke, spokesperson for the PLA Air Force (PLAAF), said at the press conference of Airshow China on August 31 that the PLAAF has historically stridden over the threshold to become a strategic air force, and will display the PLAAF's achievements in advancing strategic transformation at the 13th Airshow China.
During the exhibition, new fighter jets and a number of active main combat equipment of the PLAAF will be displayed via flight show and static display. The Bayi Aerobatics Team of the PLAAF and the Red Eagle Aerobatic Team of the PLA Air Force Aviation University will perform at the air show.
At present, the PLAAF is accelerating its strategic transformation in line with the target of "building the integrated air and space capability and having balanced strength in defensive and offensive operations". The commissioning of J-20 and Y-20 aircraft has constantly improved the PLAAF's capabilities in strategic early warning, airstrikes, air defense and anti-missile, information confrontation, airborne operations, strategic projection and comprehensive support.
As the sponsor, the PLA Air Force has participated in the Airshow China for five times in succession, demonstrating not only its strength, spirit and culture, but also wisdom, strength and confidence.