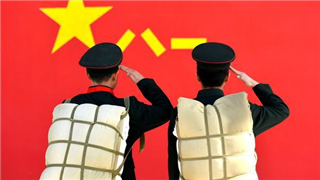 By HE QI
Editor's Note: The People's Liberation Army celebrated the 94th anniversary of its founding on Aug 1. Generations of soldiers have made their contributions to its might over the decades. The Publicity Department of the Central Committee of the Communist Party of China invited four representatives who are demobilized from the military or serving veterans to share their stories on Monday.
I served in the military for 30 years and resettled as a civil servant in 2018.As a veteran, I've shouldered the responsibility to serve ex-servicemen. Since 2018, I've visited 136 town-level veterans service stations in Liaocheng to learn what my peers really need and what we can do to offer them better lives. Most of the problems I've encountered are helping veterans land jobs. In the past half year, we've organized 21 job fairs for veterans, where 1,200 found jobs. This year, we've also lowered the loan threshold for over 380 demobilized military staff members who plan to open their own businesses.

Li Xiangwen, deputy director of the Liaocheng veterans affairs bureau, Shandong province
I was admitted into the National University of Defense Technology in 1991 as a soldier, and in 2016 I decommissioned from military service and joined Kylinsoft, a company focusing on the development of a Chinese operating system. There are many ex-military service staff members in my team who have the tough spirit to fend off difficulties at work. I believe that we can develop a China-made operating system as long as we remain true to science and strive for the prosperous future of the nation.
Kong Jinzhu, deputy general manager of Kylinsoft
I've worked for veterans since I got my postgraduate degree in 2012 and it's been an honor for me to see the establishment and improvement of a services system for veterans in the past few years. I've met many veterans during my work who have all impressed me with their loyalty, persistence and self-discipline. I remember a veteran who served when he was young. He did not complain a word to the government when his family faced severe difficulties. I was impressed that when we visited his home in 2018, he stood there and solemnly saluted us. The veterans are treasures to our Party and nation. They'd rather bear the hardships themselves than seek help from the government.

Chen Qian, an official at the Hebei Veterans Services Center
I enrolled in the military in 2015, when I was still a college student. Everybody has told me there are only soldiers on the battlefield, regardless of gender, and my peers and I have borne great hardships, becoming true soldiers. In 2017, I decommissioned from military service and started serving as an instructor at Peking University. I've also joined some call-up campaigns to encourage more college students to join the army. I'm pleased that 1.2 million college students enrolled in the military last year, a great increase from 800,000 back in 2015. Though my work has changed in the past six years, I still believe that once I was a soldier, I will be a soldier for the rest of my life.
Song Xi, an instructor at Peking University