Editor's Note: Under the leadership of the Communist Party of China (CPC), China has worked with all other countries to build a community with a shared future for mankind, which has boosted confidence and added impetus for development of Asia and the world. For the celebration of the 100th funding anniversary of the CPC, we are launching the "CPC in eyes of foreign military students" series, viewing China and CPC from the perspective of foreign soldiers.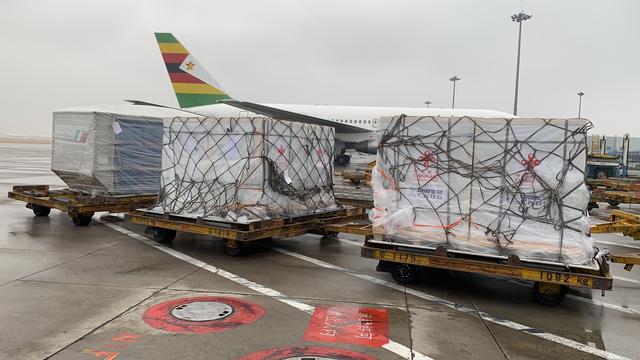 The first batch of COVID-19 vaccine provided by the Chinese government to Zimbabwe is delivered and installed at Beijing Capital International Airport on the afternoon of February 14, 2021. This is one of the first vaccine assistance provided by the Chinese government to African countries.(file photo from huanqiu.com)
By Blessed Ncube, Second lieutenant of Zimbabwean Army
Walking in the streets and lanes in China, I can always feel friendliness of the Chinese people. Every time I was in trouble, they'd offer help with amiable smile on their faces like they were my friends.
I came to China in 2019 and have studied and lived in the PLA Army Engineering University for more than two years. During this period, I've learned much more about the Communist Party of China (CPC), the ruling party in China and had a deeper understanding of this peace-loving country and its peace-loving people.
China's adherence to the path of peaceful development sets an example for the world. In my opinion, peace means a safe and stable environment in which a country can develop steadily and its people can live and work in peace and contentment. Such a safe and stable environment can be found everywhere in China. Under the leadership of the CPC, China's productive force has developed by leaps and bounds in the past 40-plus years and people's living standards have been raised dramatically. Such remarkable achievements would not take place if there were not a good and safe environment.
China used to suffer from foreign aggression and it fought long and hard for national liberation. The peaceful life it enjoys today is created by Chinese people through unremitting and arduous revolutionary struggles under the leadership of the CPC. That historical period drenched in the blood has made the CPC and Chinese people be aware more keenly of how precious peace is and therefore cherish and safeguard peace with greater efforts.
This year marks the 50th anniversary of the resuming of China's legitimate seat at the United Nations. China has always held up high the banner of peace and development all these years. Whether they are attending United Nations peacekeeping operations or carrying out escort tasks at the Gulf of Aden and in waters off the Somalian coast, Chinese soldiers are making contributions to world peace with concrete actions.
In addition, the Belt and Road Initiative (BRI) proposed by China is also conveying the concept of peaceful development. The initiative is committed to promoting infrastructure connectivity among countries along the Belt and Road and advocating exchanges and mutual learning among civilizations. As the BRI advances, it has considerably boosted economic and trade cooperation between China and African countries and brought about tangible changes for African people. Zimbabwe is also cooperating with China on several projects under the BRI framework, which has not only driven our economic and social development but also created many jobs.
Moreover, whether in pushing the international community to tackle climate change and other global challenges through solidarity and cooperation, or playing an important role in addressing regional hotspot issues, China always adheres to multilateralism and advocates unity and cooperation. Last year, the outbreak of the COVID-19 pandemic made the world more supportive of the China-proposed vision of a community with a shared future for mankind. China's actions in helping other developing countries fight against the COVID-19 demonstrate its sense of responsibility as a major country and deliver its commitment to peaceful development. China has also provided COVID-19 vaccines to Zimbabwe, making Zimbabwe one of the first countries in Africa to start vaccination against the virus.
The CPC always adheres to peaceful development and makes unremitting efforts to maintain world peace and stability. I believe if every member of the international community sticks to and works for peaceful development, the world will become a better place for all.
(This article is based on an interview by the PLA Daily with Zimbabwean Army Second Lieutenant Blessed Ncube, who had once studied at China's PLA Army Engineering University.)