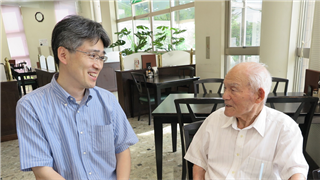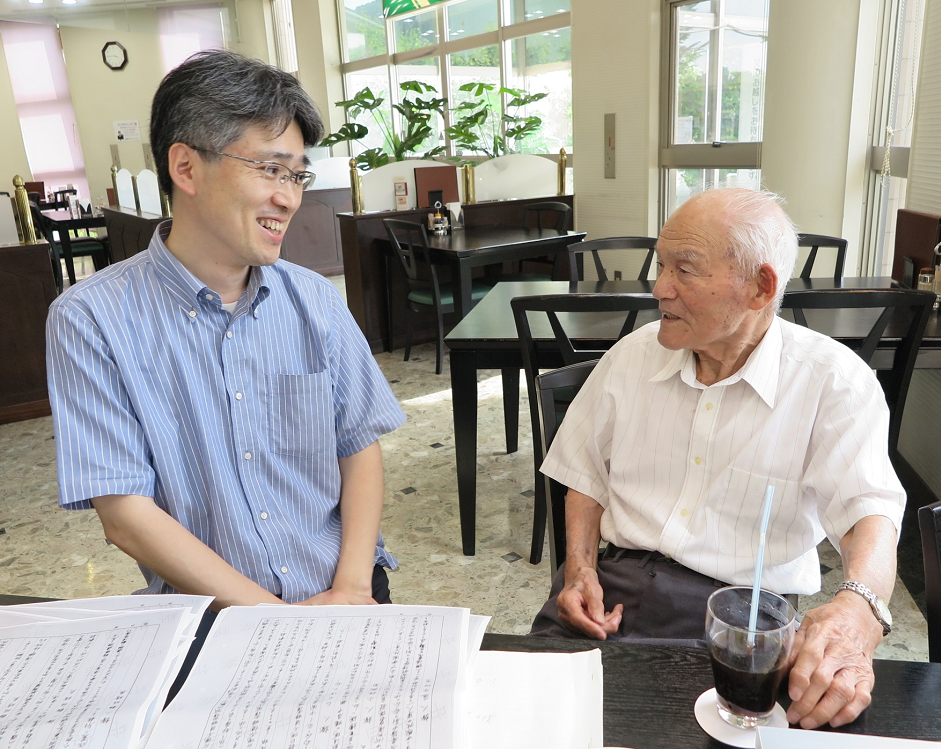 Ryuji Ishida interviews Ueda. Photo by Ryuji Ishida
By Wang Shanning
Ryuji Ishida, a researcher at the International Peace Research Institute at Meiji Gakuin University, has been dedicated to the study of the history of Japan's aggression on China for many years. He has visited war witnesses living in various parts of Japan for many years. On the 84th anniversary of the July 7 Incident of 1937, he introduced the war criminals he had contacted and their experiences in restoring the truth of the war to Japanese society and promoting China-Japan friendship in the latter half of their lives.
"As an invading soldier, I am full of apologies to the Chinese people"
Among the war criminals released in 1956 after the education and trial in China, there are still five people alive, among whom three are over a hundred years old and the other two are nearly one hundred years old. The one who impressed Ishida most is the 99-year-old man, Ueda. "Elderly people at this age are mostly sick or weak, but Ueda is able to drive out by himself a few years ago. He welcomes young people to visit his home and tells them about his experience in the war and after the war," Ishida introduced. 
In a letter to Ishida last year, Ueda wrote that "as a member of the invading army, I have committed many crimes against the Chinese people. Tragic scenes have been recurring in my mind. My heart is full of deep apologies to the Chinese people."
Ueda made it clear that his apology is not in the past tense with an over, but is continuous, and remains unchanged to this day.
Ishida pointed out that Ueda is different from other centenarians who had experienced World War II. As a war criminal, Ueda has been released and returned to Japan for 65 years. But over the years, he has been participating in China-Japan friendship activities. What Ueda said shows a sense of concerns and responsibility for Japan-China relations and the status quo of the Japanese society, as well as a sense of urgency that he will never give up until the last moment in his life.
"I vowed to dedicate the rest of my life to China-Japan friendship"
It is not easy to fully admit one's guilt," Ishida said. These war criminals thought they had participated in a holy war to defend their nation, but it was aggression and a diabolical war crime. Many war criminals confessed that after pleading guilty, they seemed to be reborn. The peace organization formed by this group of war criminals who have experienced the trial in China, the Association of Returnees from China (ARC), has been unremittingly engaged in anti-war peace activities for many years.
"China and Japan cannot communicate directly before establishing diplomatic relations and the China-Japan Friendship Association has become a window of non-governmental communication," Ishida said. Many members of the ARC have also joined the association and actively organized exhibitions of Chinese specialty products, paintings and calligraphy, etc. so that Japanese people can come into contact with Chinese culture.
After World War II, Japanese society lacked understanding of China and even had a strong hostility. As a China-Japan friendship group, the ARC continued to carry out friendly activities under the circumstance. In 1965, the ARC was invited by the Chinese government and sent a delegation to China to participate in the exchange activities, and was received by then Premier Zhou Enlai in Beijing.
Ueda chose to stay in Shimane Prefecture, received several Chinese visiting groups for friendly activities in Japan for a long time. In 1991, when he was 70 years old, Ueda retired and actively participated in the activities of the ARC. Ueda mentioned in the letter that he is committed to contributing what he had learned in China to Japan all his life and vowed to work harder and devote the rest life to the cause of China-Japan friendship.
Ishida mentioned that the other four returning war criminals who are still alive also participate in friendly activities to varying degrees. Tamamura and Imagawa are still engaged in peaceful activities in their 90s. They shared their crimes in the war of aggression against China and their activities after returning to Japan in front of the younger generation. Inada published his self-reflection and anti-war record at his own expense at the age of 90.
"Japanese war criminals' confession and repentance are not results of brainwashing, but self-reflection"
Why would the war criminals spend most of their lives conveying their reflections on the war to Japanese society after returning to Japan? Why can they continue to this day without complaint and regret in face of strong resistance and attacks in Japan's conservative political culture?
Ishida said that those war criminals turned from ghost-like criminals into anti-war peace forces, precisely because of China's leniency and humanitarian policy on them.
Judging from the Tokyo Trial and other international courts, the more than 1,100 Japanese war criminals detained by the People's Republic of China obviously deserve severe punishment. At that time, every Chinese person who participated in the trial was entangled. Many people expressed their resentment towards the Japanese war criminals more or less and believed that they should be severely punished.
However, Chinese officers in charge of education work first began to study and change their thinking and understanding, and figured out the historical and international significance of reforming Japanese war criminals. They made it clear that the ultimate goal is not revenge, but to transform them into defenders of peace.
Ishida said that the war criminals he interviewed almost unanimously expressed admiration and gratitude to the staff of the management units and education officers for their generosity and firm beliefs, and they will never forget the education they received.
He pointed out that the management unit did not completely abandon strict control measures. In fact, the overall policy is based on strictness to achieve self-control. When it comes to the sophistry, the staff did not simply reacted emotionally with anger, but refuted rationally and methodically.
After this group of war criminals returned to Japan, they have always maintained a deep understanding of aggression and their own crimes, carried out peaceful activities throughout their lives, conveyed the historical truth and the attribution of war responsibilities to Japanese society. As the main body of confession and repentance, they have always practiced the peace concept.
"I hope that by understanding this group of war criminals who are not subjected to compulsory and brainwashing, but self-reflection, as well as their anti-war and peace activities after returning to Japan, I can clarify that the trial of Japanese war criminals by China is neither diplomatic trade-off nor hegemonism, but the practice in the pursuit of pacifism and internationalism and use this as a clue to find out a path to achieving peace in Japan, China and even East Asia," said Ishida.
Editor's note: This article is originally published on the paper.cn, and is translated from Chinese into English and edited by the China Military Online. The information, ideas or opinions appearing in this article do not necessarily reflect the views of eng.chinamil.com.cn.