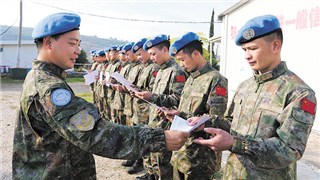 Chinese peacekeepers participating in the post-disaster aid mission in Beirut receive commemorative certificates on October 28, 2020.
By Zhao Wenhua and Ding Wendong
BEIRUT, Nov. 2 -- On October 28, the Lebanese government and the Blue Shield International issued commemorative certificates and badges to the Chinese peacekeepers who participated in the reconstruction mission after the Beirut explosion disaster to recognize their contributions to the protection of Lebanese cultural relics.
A massive explosion happened in Beirut Port on August 4, causing a large number of casualties and damages to many cultural relics. According to the order of the United Nations Interim Force in Lebanon (UNIFIL), the 19th batch of Chinese peacekeeping multifunctional engineer contingent to Lebanon sent a detachment on September 30 to perform post-disaster reconstruction aid tasks. They successfully completed the mission and returned to the barracks on October 23.
During the mission, the Chinese peacekeepers cleared about 60,000 square meters of ruins, searched and saved a large number of historical relics including coral rocks, ancient black bricks, stone carvings, etc.