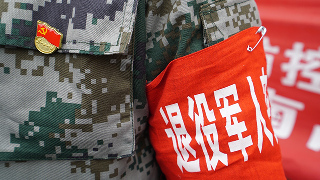 BEIJING, Oct. 14 -- The draft of the Veterans Support Law was submitted to the Standing Committee of the National People's Congress (NPC) for the second deliberation on October 13. Compared with the first draft, the second has been amended to further clarify and refine relevant policy measures.
In terms of newly clarified support measures, this revision has made addition to the contents concerning the construction of the veteran support system, including broadening preferential treatment measures for veterans, reducing regional differences in the pensions and preferential treatments, clarifying different support modes by the state for the single, eldly and disabled veterans, and so on. At the same time, the draft requests the establishment of a sound support mechanism for the rights and interests protection of veterans to ensure that their demands can be expressed smoothly.
In terms of the employments and benefits of veterans, the draft adds provisions that the level of these things should be linked with the veterans' contributions during their active service.
In terms of the responsibilities of competent service agencies, the draft adds new provisions that governments at all levels shall set up service centers or service stations for veterans to provide help in employment and entrepreneurship, pay more visits and care, ensure preferential treatment and assistance, as well as veterans' rights protection.
The draft of Veterans Support Law was first submitted to the NPC Standing Committee for deliberation in June 2020, and then was open for public opinions.