By Tom Fowdy
Editor's note: Tom Fowdy is a British political and international relations analyst and a graduate of Durham and Oxford universities. He writes on topics pertaining to China, the DPRK, Britain and the U.S. The article reflects the author's opinions, and not necessarily the views of CGTN.
There was more drama in the saga concerning popular social media application TikTok today as U.S. President Donald Trump is to set a 45-day deadline for ByteDance to sell its American operations, and then demanded that a share of the proceeds be paid to the U.S. treasury.
It comes as speculations continue to mount on talks with American technology giants considering its future, amid reports that the company may also relocate its headquarters in London, an announcement which drew a positive response from Boris Johnson but was berated by the hardliners in Conservative Party's anti-China fringe.
Amidst all the controversy and beyond Trump's aggressive technology protectionism, there is one strategic point which observers are failing to note in regard to disdain for TikTok, that is the challenge the application poses to America's global allied surveillance and data sharing network commonly known as "The Five Eyes" (FVEY).
With a Reuters report also having stated that Microsoft may be looking to also buy TikTok's operations in Australia, Canada and New Zealand, a clear pattern emerges. Although it is argued by the critics that data in the application is being sent to China (without evidence) in practice these countries are disdainful of a major social media network which cannot fall under their own data collection systems. This is why there is an obsession that a U.S. tech giant controls it.
It has been elaborated multiple times how the U.S. crusade against TikTok is simply about preserving American technological hegemony and aggressively stifling competitors. This doesn't need to be elaborated again.
The fact the U.S. president himself is weaponizing threats and coercion to push this deal through is self-explanatory, not least as much as it is an unacceptable abuse of power by the American government to undermine rival companies.
However, what does "hegemony" mean in this particular instance? TikTok is a video-sharing social networking service with a majority of users who are youngsters, whilst it is commercially successful it does not appear such as Huawei, to be a "strategic technology" that can change the balance of power between two countries, so what is the issue which links it to great power politics?
The answer is what it is being accused of - data, albeit at a different angle. TikTok is being widely considered the first successful Chinese video social media application which exists beyond the power of American technology giants.
Whilst the point of competition is raised above, its rise to become the most downloaded application in the world is not a surveillance threat itself (as this has never been proven) but in fact that it undermines America and its allies' global surveillance operations by taking away a new generation of young people beyond their reach.
In the United States, the PRISM and ECHELON programs harvest data from Silicon Valley giants and distribute it amongst the other "four eyes" (Australia, Canada, New Zealand and UK) accordingly and vice versa.
As a result, it is imperative for the U.S. and its allies to keep this system in place by ensuring that global social media remains under their control, giving them a strategic hold over the entire world.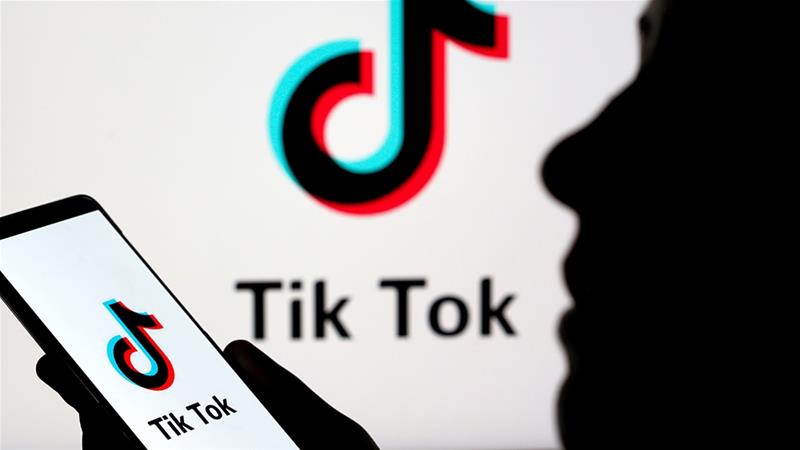 The TikTok app as seen on a smartphone. /Reuters
TikTok challenges this not because it allegedly gives data to China, but because it denies access to data from their own citizens, which exists beyond their sphere of political power.
This is why the United States are so obsessed with ensuring that an American company such as Microsoft controls it, so that then TikTok becomes co-opted by default (as Microsoft is a participant) into these programs, thus allowing the National Security Agency to gain insight into 80 million Americans which they previously did not have. This explains why the potential sale may expand into three of these other countries as well.
In this case, attacks against the application are in fact a form of projection, it's not so much "China stealing data" (for this is just a politicized scare-story) but the fact the U.S. government itself cannot do what it accuses Beijing of in this instance.
This makes sense when one understands the broader scope of the technology war to effectively be the "five eyes" coordinating together against Chinese technology companies, as has been done with Huawei.
These five countries build their power on maintaining dominance over all communications and networks as part of a global surveillance effort; China is a threat because its technological successes have by default challenged this monopoly and its stranglehold over leading innovation.
As a result, TikTok has a five-eyed monster coming after it, one that isn't trying to protect the data of its users, it is trying to steal for its own nefarious purposes.