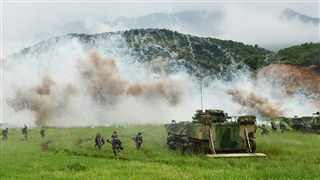 Soldiers from the unit, aka the "hard-boned company", land on a beach during an exercise. ZHANG YONGJIN/FOR CHINA DAILY
Formation
The company was formed in Hebei province in March 1939, and initially it comprised 14 soldiers from the Red Army. Since then, it has taken part in 161 battles in several conflicts, including the Chinese People's War of Resistance Against Japanese Aggression (1931-45), the War of Liberation (1946-49) and the War to Resist United States' Aggression and Aid Korea (1950-53).
Within the PLA, the company is renowned for its "hard combat thinking, hard combat style, hard military skills and hard military discipline".
In 1964, the Ministry of National Defense awarded it the title of the "Hard-boned Sixth Company", and in 1985, the Central Military Commission gave it the honorary title of the "Heroic Sixth Company".
Despite that, Chen Feng wasn't overly impressed by the honors when he joined the company in 2017. "They were just words and numbers, after all. To me, it was more like, 'OK, so this is our company's history'. Nothing more," he recalled.
At the time, the company had just moved its base from Hangzhou, capital of Zhejiang province, to Huizhou, Guangdong province. Only later, when a new history exhibition hall was built, did Chen begin to feel differently and change his view.
At the entrance of the hall sits a sculpture made from 161 bullet cases and artillery shells, which represent the 161 battles in which the company has fought.
The hall is also home to a bayonet that was wielded by war hero Liu Sihu, who single-handedly fought off a dozen enemy soldiers during a siege in 1948. The bayonet's rusty tip is slightly bent as a result of the number of times Liu stabbed his opponents.
A large painting hangs on a wall, displaying a cruel battle in 1948 during the War of Liberation, when 127 of the company's soldiers sacrificed their lives, leaving just 13 men to defend the base until victory was assured.
"I was deeply touched when I came here and saw these heroic scenes," said Chen, who comes from a wealthy family in Dongguan, Guangdong province. His father, who owns a machinery company, wanted Chen to gain some life experience by serving in the military for two years and then return home.
"I had some knowledge about the military. I knew life here could be very difficult, but it was much harder than I had expected," Chen said.
He had thought a pass in all subjects would be sufficient, but his squad leader demanded outright excellence.
"He always told us that excellent results are just the starting point, and only breaking records counted. There is no peak-just keep going upward, so the training can only become harder and harder," he said.
Accustomed to a comfortable urban life, Chen was daunted by the intensity of the training. He wanted to quit training, but his squad leader, Lin Xinxiang, told him: "If you can't endure the hardship, then don't stay in the sixth company. No soldier in the sixth company is unable to bear this hardship."
Chen said: "I was greatly touched by his words. I felt that I had joined this heroic company, so I should fight for more honor instead of lagging behind."
He set himself small goals, such as trying to overtake the person in front of him during runs. Every time, he ran harder and faster to overtake the runner at the front, and eventually he led the pack.
Last year, his progress earned him a potential spot to represent the company in a parade at Tian'anmen Square to celebrate the 70th anniversary of the founding of the People's Republic of China.
As a soldier with zero experience of formation training and daunted by the high rate of elimination, Chen trained even harder. "I never thought I could endure that much hardship," he said. His efforts ensured he won a coveted spot and was part of the parade.