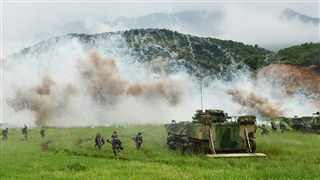 Members of the Sixth Company of the 74th Army Group of the People's Liberation Army attack during a military exercise ZHANG YONGJIN/FOR CHINA DAILY
At first, he could only raise a 0.5 kilogram dumbbell with his injured arm, but after practicing for some time, he began to do pullups on a horizontal bar. Fearing that his arm would ache during exercise, he bound it in a resistance band and wrapped his left wrist in a tight bandage to prevent the steel pin from moving during long-distance runs.
In the end, he not only passed the assessment, but also became the first member of the brigade to be classified as achieving a very high level of fitness.
This harsh training routine has become a habit. Every morning, Zhao gets up an hour before his comrades so he can run 8 km and complete 200 pullups with a 15 kg weight tied around his waist.
Although the steel pin prevents him from bending his wrist as freely as he would wish, he has accepted the fact and calls himself "the running steel wrist" on his social media account.
"Actually, I feel my bones have become harder since the injury," he said.
When he joined the company in 2008, Zhao's fitness level was assessed as one of the poorest in the squad even though he stood 190 centimeters tall and weighed 70 kg.
However, after his squad leader related many stories of heroism and spoke about the company's honored history, Zhao began to better understand the spirit the company has revered throughout the years.
He was also impressed by his comrades' determination and perseverance. In response, he pushed himself to train harder and harder and become the best of the best.