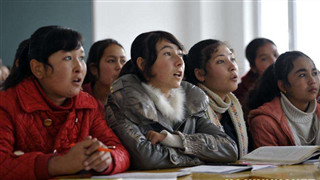 URUMQI, June 19 (Xinhua) -- Zulpiye Adil has a respectable job as a dancer for an entertainment company and is a valuable member of society. Yet just four years ago, she harbored sympathy for terrorists that conducted bombings.
Adil, 36, is a resident of the county of Shule, northwest China's Xinjiang Uygur Autonomous Region. The county is in the southern part of the Tianshan Mountains.
The mother of two opened a rehabilitation treatment store after graduating from high school and met her husband Memeteli Memet, who was a restaurant owner. As she spent the long days working in her store, some customers insidiously instilled hatred and extreme thoughts in her mind.
"They told me that all Uygur people are Muslims and that I was not a real Muslim because I wore a skirt," Adil recalls. "They said that I should wear a burka."
The extremists also told her that "killing the pagans was jihad" and that it could "guarantee her entry into heaven."
From 2014 to 2015, terrorists conducted multiple attacks in the southern part of Xinjiang, threatening the lives and property of people of various ethnicities in the region. Meanwhile, some people were influenced by extreme thoughts, including Adil.
"At that time, I thought of the terrorists as great heroes and good examples for me," she says.
From that time on, she began wearing a niqab and a burka. She became reluctant to work and grew increasingly resentful of her husband.
"I thought he was not a real Muslim, We quarreled a lot, and I returned to my mother's house several times. I was ready for a divorce," she says.
Their quarrels alarmed people in the village. At the persuasion of village officials, Adil decided to go to the county's vocational education and training center to study. She graduated in February 2019.
"After more than a year of study, I gradually learned that everyone should follow national laws," she says. "We can live a happy life through hard work."
Adil also became aware of the true nature of extreme thoughts.
"Those who engaged in violent and terrorist activities not only killed other people but also destroyed the happiness of themselves and their families," she says. "My family almost fell apart because I was led astray."
She was also shocked to learn that the extremists ban people from crying and holding funerals when their loved ones pass away, and that they discourage singing and dancing.
"Singing and dancing is the traditional culture of the Uygur people," she says. "I regret believing what the extremists told me."
Singing and dancing have always been part of Adil's life, so she chose to hone her dancing skills at the training center. After graduation, she was hired by a local entertainment company in Shule, with a monthly salary of 2,750 yuan (about 388 U.S. dollars).
Adil says she is lucky to have chosen to study in the center.
"Without the training sessions, I might have become a terrorist," she says. "How could I possibly have gotten this dream job of mine?"
Adil's changes also delighted her husband, because he sees hope for the family living a happy life again.
"She is a different person after graduating from the center, which made me happy," he says.
He also found a new job in the county seat to be closer to his wife.
"I will work hard together with her and be with our children to watch them grow healthily and happily," he says.