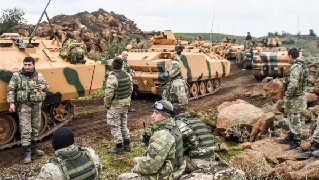 DAMASCUS, April 26 (Xinhua) -- Tension has flared between the Turkish forces and an al-Qaida-linked militant group on Sunday as a result of the militants' rejection of a Turkey-Russia deal to clear the M4 road in Idlib province in northern Syria, a war monitor reported.
The Hayat Tahrir al-Sham (HTS), the umbrella group of the al-Qaida-linked Nusra Front, has rejected to clear the M4 road, which connects the northwestern province of Latakia with Aleppo province in northern Syria, said the Syrian Observatory for Human Rights.
Under a recent Russia-Turkey deal, the Turkey-backed rebel groups should remove their forces and clear the M4 road. However, the HTS refused the deal as sympathizers with the group set up tents on the road to prevent the Turkish side from opening the road, which eventually aims to have the Syrian government side take over.
The Observatory said the Turkish forces managed to remove most of the tents but HTS militants and Turkish forces exchanged fire on Sunday, which led to the wounding of Turkish soldiers and the killing of four HTS militants.
On Sunday evening, Turkish helicopters entered Syria's Idlib province in northwestern Syria to take the wounded soldiers back to Turkey, said the Observatory.
The UK-based watchdog group said tension is escalating between the Turkish forces and the HTS near the town of Nayrab in the eastern countryside of Idlib.
The M4 road links Latakia with Aleppo through Idlib, where the rebels are located.
According to the cease-fire arrangement signed between Russia and Turkey in March, the M4 road, which runs across opposition-held Idlib from east to west, was slated to be an area that is patrolled jointly by both Turkish and Russian troops.
However, protesters blocked the M4 in defiance of the Russia-Turkey deal.
Still, Turkey seemed to be determined to open the M4 ahead of a meeting that is planned to take place soon between leaders of Turkey, Russia, and Iran, which will discuss the cease-fire deal and the situation in Idlib.
The Syrian army has already advanced in the M5 road, known locally as the "international road," which links the capital Damascus with Aleppo.
Idlib has emerged as the last rebel stronghold in Syria. The region is home to three million people.