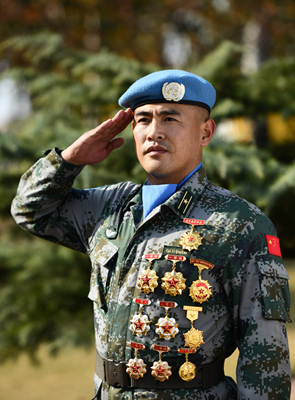 Watching on TV the peacekeepers' formation do goose step past the Tian'anmen Square, Li Qingkun, commander of the reconnaissance battalion of a combined brigade of the 80th Group Army, could no longer hold his tears.
Li Qingkun was the head of the fast response squadron of the 6th peacekeeping guard detachment to Mali, and he just came back from his second peacekeeping mission in that war-ridden country, shortly before the military parade in celebration of the 70th anniversary of the founding of the People's Republic of China.
In his 14 years' service time, Li was granted the UN Peace Medal of Honor twice along with numerous other merits.
In 2013, China sent the first peacekeeping force to Mali at the request of the UN, including a guard detachment. It was the first time that China sent combat troops overseas.
Li Qingkun signed up, excited to go to the battlefield.
But he was preparing for a competition of special forces then, and his superior joked that his application would be granted if he won.
Second place is not an option.
Grenade hurling was his weak link, so he would continue to train after other soldiers went to bed. The dim light from the cellphone saw him practice over and over, until he was unable to lift up his arm again.
No one would have ever expected that Li Qingkun had acute gastroenteritis the day before the competition.
Refusing to take a rest, he participated in all ten subjects the next day, including 6km armed obstacle off-road race and special sniping. He was so exhausted that he passed out after passing the finish line. In the end, he took away three gold medals, one silver and one bronze medal, ranking first in overall performance.
Nobody was born a special force soldier. When Li Qingkun was enlisted, he weighed more than 100kg and the trainers even draw a lot to decide who would take him on. Li hid in the quilt and cried that night.
Li Qingkun was the most hard-working soldier in the training. He got up one hour earlier every day to practice off-road running; his hands were full of blisters and scars from horizontal bar practices; his legs trembled after practicing push-ups, sit-ups and squats.
When the training was over, he lost more than 20kg and excelled in all physical subjects, and was contended for by various companies. In the first year, he was certified as a "Special Force Soldier"; the second year he broke the special force's record of 6km armed long-range raid; the third year he was honored as "Hunter" and "Excellent Sniper" for a straight-A record.
Others said he was born to be a special force soldier. However, Li Qingkun felt something was missing.
That feeling was gone when he embarked on the peacekeeping journey to Mali. "How can a soldier not go to the battlefield? My life wouldn't be complete if I missed this opportunity," he said.
One afternoon in July 2013, the plane carrying the first Chinese peacekeeping force to Mali landed at Gao airport. "Dilapidated ruins" was Li Qingkun's first impression of the place.
"The airport was just raided and there were bullet holes and broken glasses everywhere." Li had imagined what Mali was like many times, but the scene he saw when he set his foot on the territory was far beyond his imagination.
The initial Gao mission area was a barren land in the Sahara desert. As rocket projectiles might drop anytime, everyone slept with gun in hand, ready to seek cover anytime. Li was always on the frontline no matter in the car or in the troops even in dangerous Mali.
In April 2014, he led a team to escort UN officials.
It was one of the most dangerous sections, lying southeast Gao, with many landmines and rocket projectile attacks every two or three months. Before escorting Li Qingkun had field reconnaissance and drills repeatedly to ensure the officials' safety, but accident happened on the day of the escort.
When their vehicles passed the third mission station, he felt something was wrong. Traces showed that the roadside dirt had been stirred, there was barely a passer-by, and even ox and goat under the bridge were not seen.
Sensing danger, emergency disposal plans immediately popped up in his mind. He ordered the team to stop, retreat and change the route, asking the procession to "get ready for battle".
He was right. Later that day, the Mali government forces and a foreign peacekeeping force encountered bomb attacks on that road, leaving one dead and three injured.
During the two peacekeeping missions, Li Qingkun led his team to carry out more than 380 missions, including tackling guerrilla attacks and roadside bomb attack and escorting UN officials. He was described by foreign peacekeepers as the "bravest man". Before he came back to China in May this year, Lieutenant General Dennis Gyllensporre, Force Commander of the United Nations Multidimensional Integrated Stabilization Mission in Mali (MINUSMA), held his hand and said, "You are the toughest Chinese soldier I've ever seen."
During the presidential election in Mali in August 2018, three UN employees were hurt by terrorists and taken to the Chinese peacekeeping hospital for treatment. However, the hospital didn't have enough blood for treatment, and Li Qingkun was ordered to get blood supplies from the airport.
It was actually a difficult mission given Mali's situation then, and their vehicles were stopped by two armed trucks soon after they left the peacekeeping camp. Li Qingkun stepped down from the first vehicle, walked forward alone for negotiation, while all of a sudden, several guns were pointed at his chest.
"They surrounded me and my comrades wouldn't have time to save me if they shot then." Luckily the militants didn't pull the trigger. The Chinese peacekeepers in the vehicles took out their guns, and Li stood still.
He already had a plan in mind - that was he was trained for, but before he made a move, the militants saw their Chinese national flag and, after a short discussion, let them go.
The next three passes all gave green light as well. Li Qingkun never felt the power of his motherland so deeply.
"They came to the Chinese hospital and asked Chinese peacekeepers for help because they trusted us. We would try all we could to save them, no matter where they came from," he said, "the place wherever we stand is China, and everything we do is telling the world that China is here for peace."
In a morning on his way to perform a mission, Li saw a pregnant woman, with a baby in hand, picking up empty mineral water bottles from a trash heap and trying to find some remaining water. Since then, Li often shared his water and food with children by the roadside when he went out for missions.
Soon the locals remembered him, and when Li told them he was from China, they would put up their thumbs and say, "Chinese, good!"
"Chinese soldier" is the label that Li Qingkun cherished most. "We stand for the image of China. We should let the world know that Chinese soldiers are reliable and friendly."
Li made many African friends during the two peacekeeping missions. Before coming back, he gave all his clothing and daily supplies to the locals. He also helped get some poor children to school, and donated school supplies for them.
During the military parade celebrating the 70th anniversary of the founding of the People's Republic of China, the whole world was watching "Chinese blue helmets" as the peacekeepers' formation goose-step past the Tian'anmen Square. That moment, truly made Li Qingkun proud and reminded him of his days in Mali and the red flag flying high above the barracks.
And he was proud of being one of the "Chinese blue helmets".