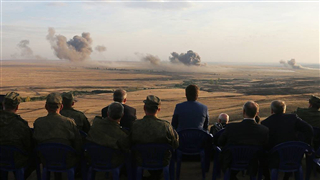 The opening ceremony of the Tsentr-2019 (Center-2019) strategic drills
By Wei Qi, Liu Yupeng and Liu Yang
On Monday, the long-awaited six-day Tsentr-2019 strategic exercise officially kicked off in Russia, with as many as 128,000 officers and soldiers involved. The Chinese side has sent about 1,600 officers and soldiers to take part in the exercise. What are the characteristics of this large-scale exercise? What will the Chinese participating troops achieve from it?
Russia's news agency Sputnik reported that the Russian Defense Minister Sergei Shoigu said that Tsentr-2019 drills are the most important part for the training of Russian Armed Forces during summer period. The Russian Defense Ministry said that nearly 130,000 military personnel, over 20,000 military equipment, nearly 600 fighters and 15 warships, about 250 tanks, 450 Infantry Fighting Vehicles (IFVs) and armoured personnel carriers (APCs), and 200 artilleries and missile systems will participate in the exercise. The massive exercise also involves military personnel from China, Pakistan, India, Kazakhstan, Kyrgyzstan, Tajikistan and Uzbekistan. The Information Office of Russia's Central Military District stated that the exercise will practice measures to employ troops from a coalition of countries in fighting international terrorists and ensuring military security in the Central Asian strategic area.
On Monday, Russia Today (RT), a Russian international television network, reported that Tsentr-2019 will comprise of two modules. The first module will include the campaign determination and plan formulation, counter-terror operations, repelling airstrikes, reconnaissance operations and defensive measures by the Command, while the second module will focus on intensive fire strikes by multinational forces to carry out all-out offensive operations against the "enemies".
The opening ceremony of the Tsentr-2019 (Center-2019) strategic drills
Vadim Kozyulin, a Russian expert with the PIR-Center, said that the spread of international terrorism is one of the major threats to national security in Russia, the member states of the Shanghai Cooperation Organization (SCO) and the Collective Security Treaty Organization (CSTO). The exercise is aimed at fighting against terrorist organizations in Central Asia. In addition, its major purpose is to evaluate the preparedness of troops of the Central Military District, and comprehensively assess the combat and combat training levels of its troops.
According to retired Russian Colonel Mikhail Khodarenok, the exercise itself is a demonstration of the combat effectiveness of the troops, sending certain signals to both partners and enemies. Russia's current strategic exercise system is sure to help the military to continuously improve its combat readiness.
An anonymous Chinese military expert said in an interview on Monday that considering the exposed information, although the Tsentr-2019 drill has highlighted anti-terrorism operations, most subjects in the exercise are focused on improving the core military capabilities. Therefore, this exercise requires high level of military capacities and coordination among participating countries.